Humane Society of Moab Valley 
BARKTOBERFEST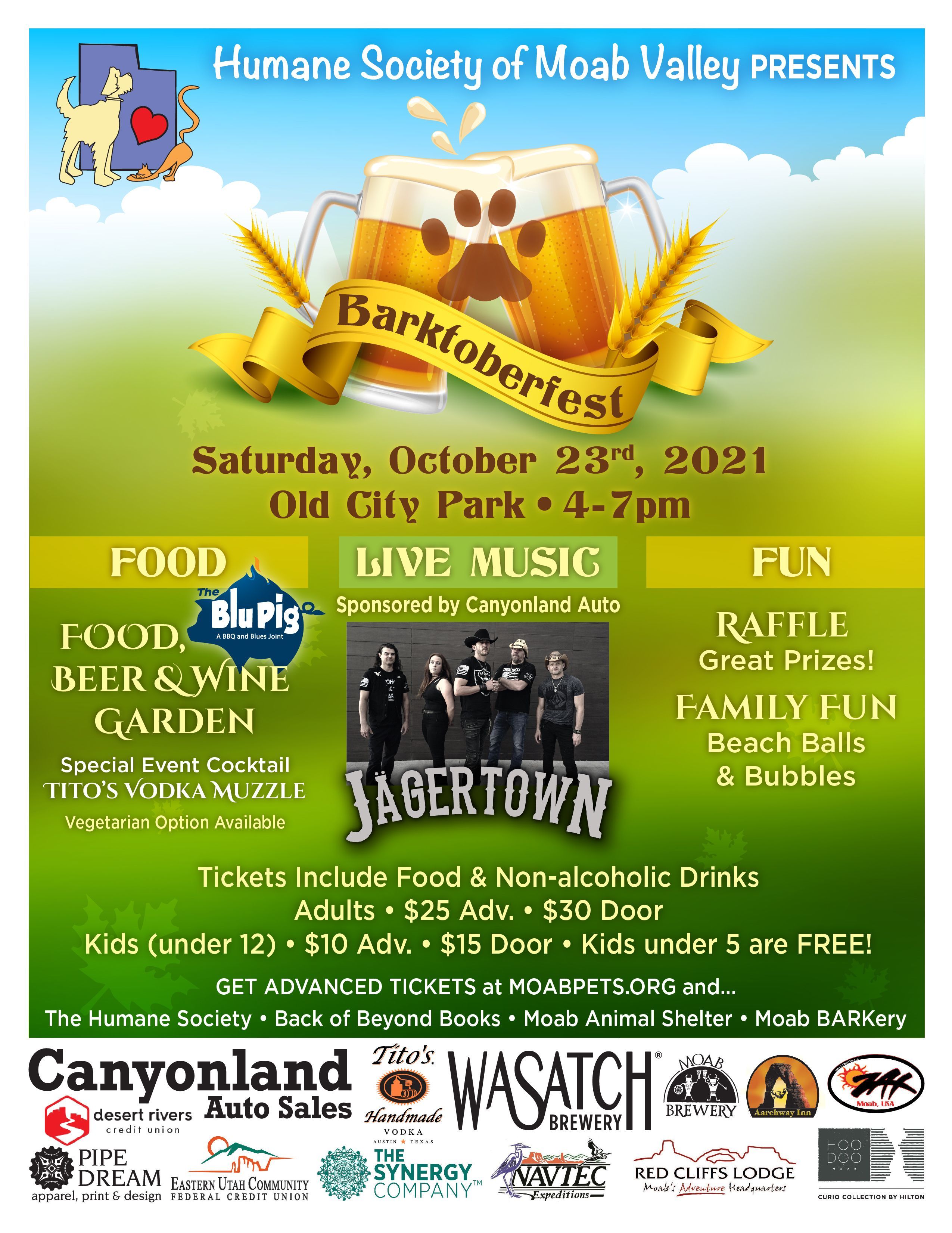 Barktoberfest
This form stopped accepting submissions on October 23, 2021 4:00 pm MDT.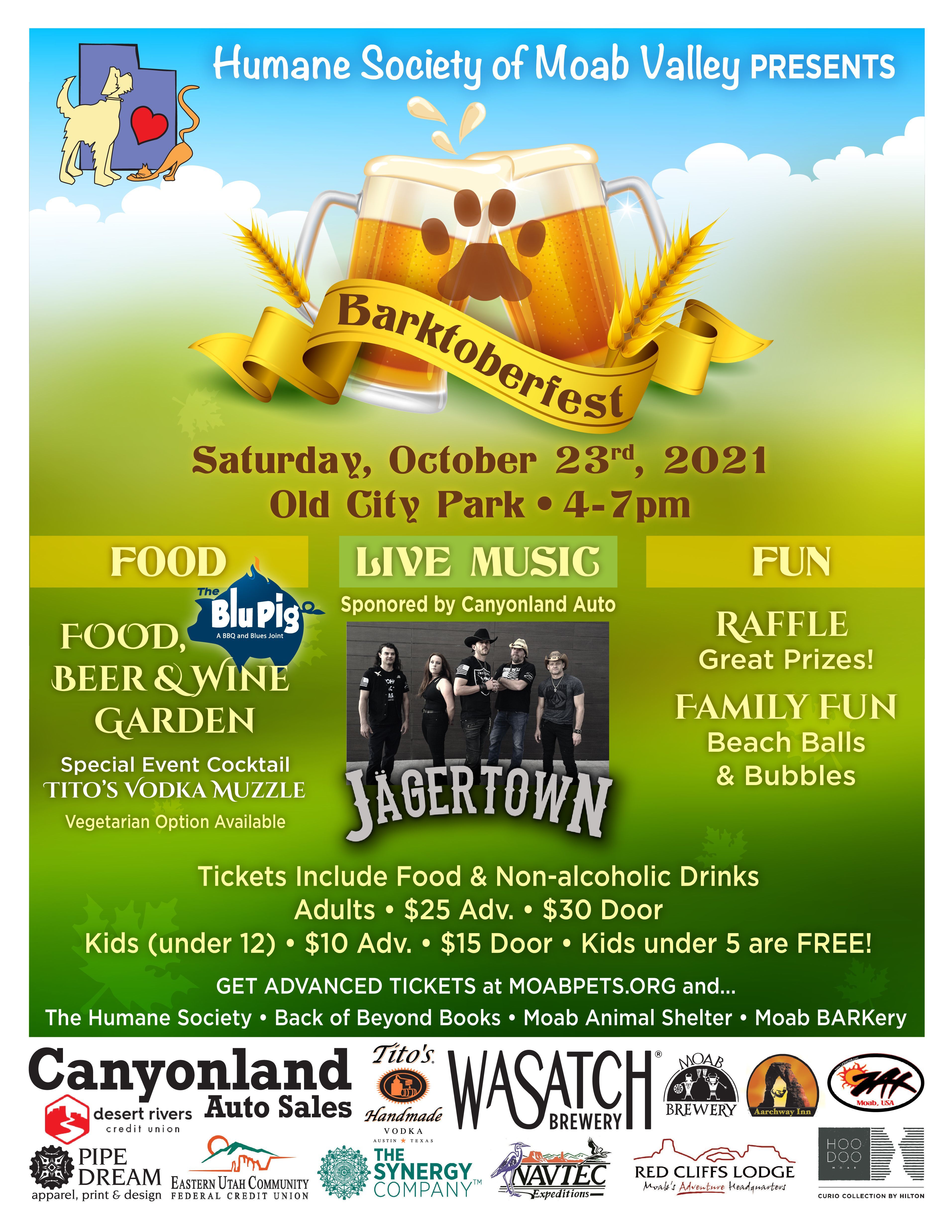 Date of Event: Saturday, October 23, 2021
Time: 4:00 to 7:00pm
Location: Old City Park, Moab UT
Join us Saturday October 23 from 4:00pm-7:00pm at Moab's beautiful Old City Park, for our Barktoberfest Fundraiser for the Humane Society of Moab Valley. Relax and enjoy the tunes of Jagertown's, signature southern rock style, while treating your taste buds to delicious food sponsored and catered by Blu Pig and served at Old City Park's outdoor pavilion. Food choices include favorites, such as bratwurst, sauerkraut, potato salad, and more! Food is included in your ticket purchase.
Also check out the Barktoberfest Beer Garden offering beers made by Wasatch Brewery. Or you may want to try our very own Tito's Vodka Muzzle. Red or white house wines will also be available. Beer, wine and the specialty cocktails are purchased a la carte. And you won't want to resist raffling for our many luxury gift items and baskets!
Tickets are $25 in advance, $30 at the door and can be purchased at Back of Beyond Book, Moab Animal Shelter, Moab BARKery, or visit moabpets.org to purchase tickets on-line.
Contact Information
Humane Society of Moab Valley
435-259-4862
Venue and Check-In
Our event begins at 4:00pm Saturday, October 23.   Please have your tickets to enter the venue.  On-line ticket purchases are paperless, so you do not need to bring printed tickets.  Tickets will also be available for purchase at the entrance. You may bring your own chairs, or a blanket to sit on the lawn. We suggest comfortable clothing for outdoor seating.  We recommend that you bring a flashlight to navigate back to the parking area once it becomes dark.
Location of the Venue
Old City Park is located off Murphy Lane on Old City Park Rd., Moab, Utah.
Food/Drinks at the Venue
You may purchase beer, wine, or our Barktoberfest specialty cocktail at the venue.  You must provide proof of age with a valid ID to purchase alcohol from the beer garden.   Food and water is available with your ticket purchase, or you may bring your own water or non-alcoholic beverage in an unopened container. No outside food or alcohol is allowed. Please do not bring in coolers.  
Safety
Our first priority is everyone's safety. Humane Society of Moab Valley has Covid-19 safety protocols in place to observe current health guidelines for group gatherings in Grand County.
By purchasing a ticket, you signal your agreement to abide by these protocols. We thank you in advance for your cooperation and look forward to enjoying a fun time together.
We require wearing masks in entrance lines, refreshment and food lines, beer garden, and anywhere 6' distancing may be impractical.
Health Checks
Symptom checks are not required in 2021, however we ask that you stay home if you may have been exposed to Covid-19 or have been around anyone who is sick in the past ten days, or if you are experiencing symptoms of an illness.
We look forward to seeing you there!