A tribute to Squeak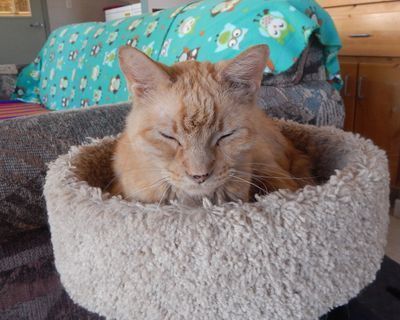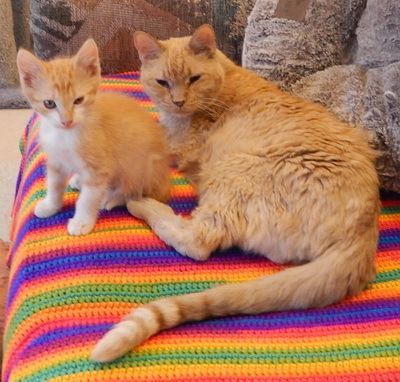 Virtually everyone who is reading this has known the pain of saying goodbye to a furry friend. It is one of
the saddest parts of life that our fur babies do not live as long as we do. Our love for them continues
long after they are gone.
Fourteen years ago a five year old male stray cat was brought to the Moab City Animal Shelter. He was
very timid and had an old hip injury. Animal Control Supervisor Randy Zimmerman decided he should be
the shelter mascot. Animal Control Officer Jamie Hulce, named him Squeak because of his funny little
meow. Shelter Manager Janette became his mom. Squeak had a special mission at the shelter that he
chose. Whenever motherless frightened kittens came to the shelter, Squeak approached them showing
them food dishes and litter boxes. He then let the kittens play with him, jump on him, and he in turn
shared his bed with them and gently nuzzled the scared little ones. His calm easy going personality
quieted the kittens and made their transition to a forever home so much easier. Squeak never got angry
or frustrated with these little balls of fur. But the ravages of age began to take a toll on Squeak as he
approached twenty years of age. On her day off, Janette got a call from the shelter and knew it was
Squeak. She dropped everything and raced to the shelter. One look at Squeak and she knew it was time.
Sitting in her loving lap and purring, Squeak crossed the Rainbow Bridge. The staff and volunteers of the
Moab Animal Shelter and Humane Society of Moab Valley love and miss Squeak. We do smile thinking about Squeak going up to
the Pearly Gates with St. Peter sitting there and telling St. Peter two things:

1. I have work to do. Show me where the motherless frightened kittens are so I can give them
comfort as I did for 14 years on earth.
2. You are in my chair.

We miss you Squeak.
---
Sally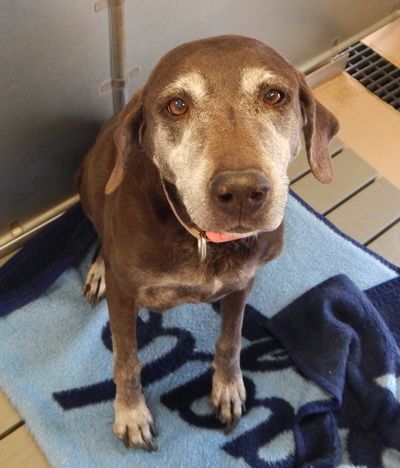 Our average adoptable dog and cat Facebook posts reach 800-1,500 people.  Sally, the senior Chocolate Lab that was posted in March reached 33,716 people with 2,108 reactions and comments.  Sally was the companion of our wonderful volunteer, Jeff that recently passed away.  His cat Kitterkat and Sally were brought to the shelter to be rehomed.  KitterKat was adopted right away.
Our first post and photo about Sally:
 "Sally has come to the Animal Shelter after her person passed away. She is a wonderful 9 year old Chocolate Lab mix who is spayed. Sally is super friendly and was a wonderful companion to her family. Easy going and happy, Sally is looking for a forever home with a person she can shower with doggy love."
Numerous calls and Facebook messages started to come in.   So many that we could not respond to everyone.  In addition to local inquires, we were receiving calls from people living in other states including Colorado, Oregon and Washington. 
We then posted this message:
"Sally is housed at the Moab City Animal Shelter. Currently the Animal Shelter along with all of Moab City offices is closed to the public due to COVID-19. Therefore there will be no adoptions until further notice. Rest assured Sally is in no danger and actually is much happier than the pic would lead you to believe. :) Many people have contacted the shelter and are willing to give Sally a good home, unfortunately shelter staff have been unable to respond to the many inquiries by FB, email, and phone. We apologize. After the quarantine is lifted we will re post a pic of Sally and then will be able to speak with potential adopters by phone or email. Thanks all for your patience and understanding."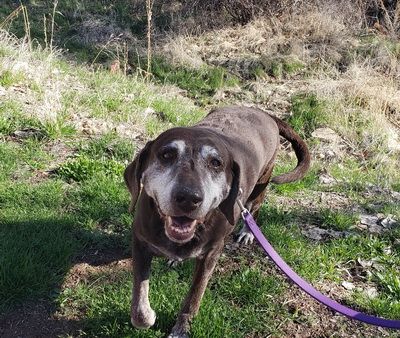 UPDATE:  Sally found her new best friend and sent this message...
Me and Karen-
It's been a bit over two months now, and I almost have her trained:  it's not easy – she's old and stubborn.
I have my night bed (in the back bedroom with her) and my day bed (in the spare bedroom)  and the bed that silly woman bought the day she picked me up that she thought I would sleep in; I do use that when she's sitting at her desk because it's right there in the way of everything.  I've also discovered it's pretty comfy under her desk under her feet...sort of like a den.  It's a great spot when there's thunder.
I have taught her to keep her bedroom a bit tidier by closing her closet door.  She keeps little doggie treats in her pants pockets.  One day when she was away I entered the closet, carefully pulled a pair of Levis off the pants rack, placed them on the floor and very gently pulled the pocket inside out and ate the treats.  She was so astounded when she came home she didn't even yell at me.
Sometimes it's really hard getting her attention, but I discovered on Day 1 how to.  She fed me my dinner, but it was not enough food.  So I put my paw into the empty food bowl, which is pottery, and turned it over onto its side on the floor so it made a very loud noise.  And I stared at her with my paw still inside the bowl.  Should have been obvious to anyone that I was still hungry.  She stared back and muttered something like "forget it".  So I took it and rolled it across the room.  Still didn't get any more food, but I could tell it took great restraint for her not to laugh.  Now when she ignores me (food or not), I knock the bowl over.  When it's a really overt ignore I roll my eyes, twitch my ears back, and bring out my really deep "woof".  I don't always get what I want, but she sure can't not pay attention.
I keep trying to explain to her how my previous companion allowed me to go wherever I wanted whenever I wanted without a leash and fed me 2 to 3 pounds of steak daily.  She acts like she doesn't believe me.   I'm still not getting the steak, but we have graduated to some free time at home outside without the leash.  It's been a long, stressful process, but I've finally convinced her I'm (somewhat) trustworthy. 
We're still working through some language problems, e.g. "come".  Does that mean "get your doggie butt over here right this instant!" or does it mean "no hurry, but when you're ready would you consider seeing me so we can discuss what kind of treat you'd like"?
For all her faults, I think I got pretty lucky.  She loves me a lot.
Sally
-----------------------------
Are you SURE she's 9 years old and not 2 ????  Maybe I should try eating some of her kibble to see if it gives me that much energy.  And, yes, I do love her a lot.
Karen
-------------------------------
---
Mozzy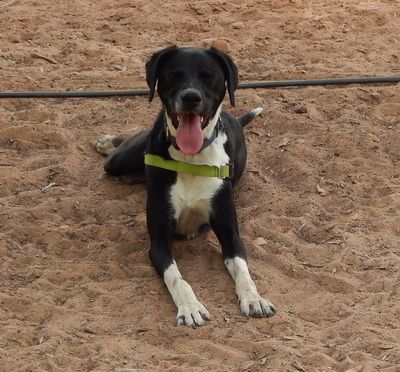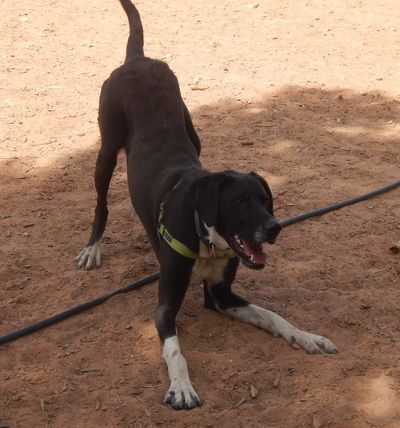 Mozzy was relinquished to our shelter March 26, 2020.  His former mom had a family emergency and was forced to leave town at a moment's notice, not sure of when she could return.  The Moab City Animal Shelter along with all of Moab City offices had just closed to the public due to COVID-19.  Shelter staff met a nervous Mozzy and his tearful mom at the gate of the shelter property.  After required paperwork and Mozzy's personal belongings were given to us a final hug between best friends, canine and human, were exchanged…with a promise that Mozzy would continue to be loved and safe and one day meet a perfect new family again.
Shelter staff helped Mozzy by taking him on daily walks to the Dog Park with lots of ball fetching.  And to stimulate this intelligent dog's mind, obedience training was applied along with plenty of fun!  Now this sweet long legged two year old dog is back to his happy self.
Update:  Mozzy has found his forever family!  Mozzy now happily lives with a family of 7 wonderful people that give Mozzy everything he has yearned for… lots of exercise, ball fetching, daily walks and runs, snuggles and of course LOVE.
---
Helix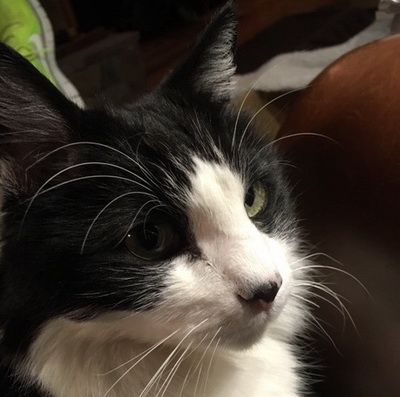 In memory of Helix.
Abandoned in a box as a kitten, he had a rat tail and fit in the palm of a hand.
A Maine Coon, he reached 17 pounds, was alert, smart, loving and always curious.
Adopt your own Helix. He will fill your life with love.
---
Copper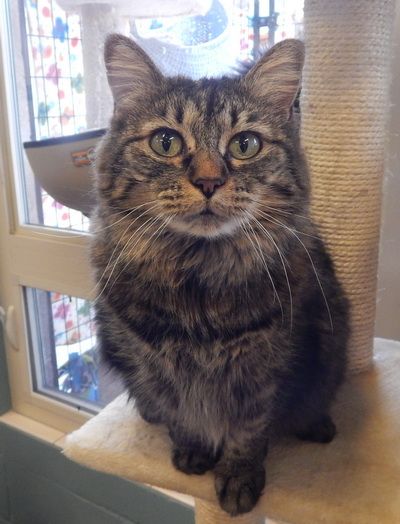 Copper was with us here at the City Animal Shelter for over a year and patiently waited for the perfect person to find her... then one day it happened! 
Here is what her new mom wrote:
Copper came home to a new house and a new name. She's now Subak, or Subi for short. Subak is Korean for watermelon, round and sweet just like her!  Subi is officially the boss around here. She has taken over the bed as it seems to suit her perfectly; I take what she's left over.  How can a tiny cat take up so much blanket?  She is so full of love. She never stops purring and will be scratched and pet all day if she could. The birds outside the windows are her favorite form of entertainment, but she'll chase strings and play with catnip toys any time.  I couldn't be happier with this sweet girl. Thank you to the Humane Society for taking care of her!  Now we take care of each other.
---
Nina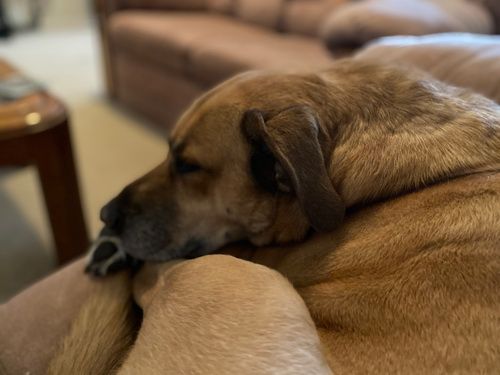 When sad circumstances resulted in Nina's "mom" being unable to care for her anymore, Chuck was there to mend Nina's broken heart.  Nina was still being cared for by family members when Chuck found out about Nina's need to be re-homed. Chuck said that Nina was sad but says it was a good decision. Chuck says that fortunately Nina is good natured and very laid back and was obviously loved all of her life.  Chuck says that Nina loves to go for walks and will even run a little, but what she excels at is sleeping - "she sleeps a lot."  Chuck, who is a local butcher, reports that Nina enjoys a quality New York strip steak.  Chuck says that Nina is a great dog and they "get along pretty good." Chuck says he was waiting to get a dog and then Nina came along and it was a perfect fit. 
---
Silver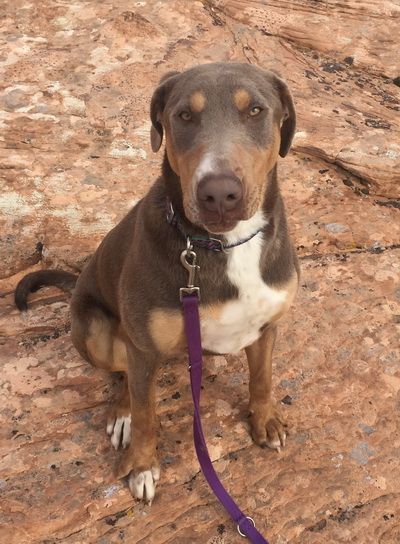 Silver, oh Silver, best goofiest, sweetest girlie ever and so beloved by all the Shelter staff and the volunteers.  Silver was adopted!  Silver's new mom Mimy says that the things that she likes the very most about Silver is that she is big and sweet and smart.  Mimy recognizes the challenges that Silver is presenting and is working so hard on those challenges.  Mimy said that she is training Silver to come when she is called as she wants to be able to hike with Silver off leash.  Mimy says that Silver does well until there is another dog in the picture and then it is as if Mimy doesn't exist.  Mimy is taking Silver to the dog park to work on her social skills as Mimy says that, at times, Silver can be very much an alpha dog.  Mimy said that initially she was allowing Silver to be on the bed and on the couch but Mimy is learning that she will need to be a firm leader for Silver before Silver earns any of those privileges.  Mimy said that she feels like there are many people in the Moab dog community who are helping her figure it out.  Our thanks go out to Mimy for taking on this special girl. 
 
---
Flower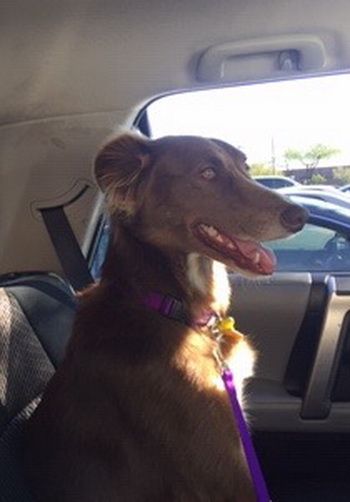 Flower, or sometimes Flower Power or sometimes just Pow, was a long-term resident at the Moab Animal Shelter.  Flower was adopted twice and returned to the shelter both times - was there anyone to provide Flower with a forever home?  A decision was made in January to move Flower to Arizona Border Collie Rescue, an extremely reputable rescue organization that maintains their dogs in a network of foster homes while they await adoption.  Flower was no longer unwanted and the adoption applications flooded in for this lovely high energy "redhead."  Flower was adopted on her first day listed as "available" and she went to a forever home with a very active retired couple.  Our thanks go to Arizona Border Collie Rescue for taking Flower and finding her a suitable home that will appreciate all of her quirks and high energy needs. 
Picture of Flower was taken by the adoptive mother on her way home.
---
Muffy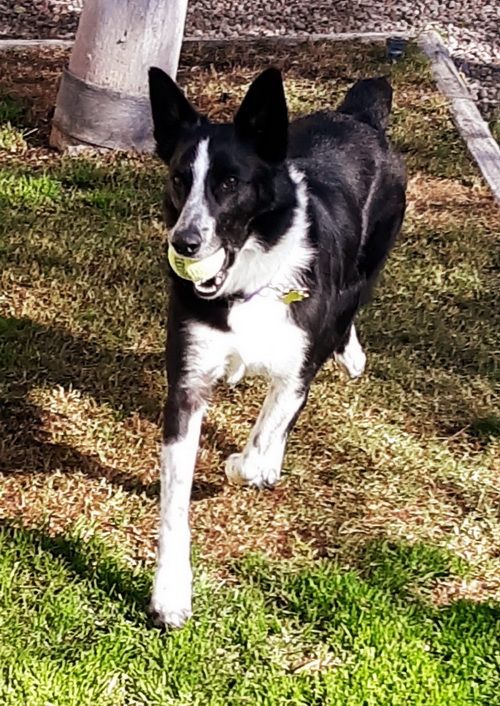 Muffy came to the Moab Animal Shelter as members of her family were experiencing health issues and were unable to care for Muffy.  Muffy is a very active and intense Border Collie / Cow Dog mix.  Muffy was struggling in the shelter environment due to being so high energy.  A decision was made in January to move Muffy to Arizona Border Collie Rescue (AZBCR), an extremely reputable rescue organization that maintains their dogs in a network of foster homes while they await adoption.  AZBCR specializes in finding appropriate homes for Border Collies with active folks who have a lot of time available to train and exercise their dogs.  Muffy loved her foster home with Bob and his family and other dogs and was kept well exercised and busy.  Muffy was adopted, after about a month in Bob's care, to a family with a mother who runs about 8 miles a day with Muffy and a son who throws the frisbee and ball over and over much to Muffy's happiness - the picture says it all.  Happy Life Muffy!
---
Petco Foundation Adoption Partner helps Boots find his forever home.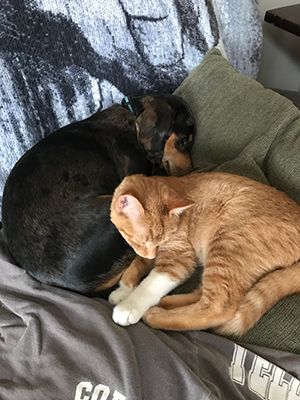 Boots has been a great addition to our family. We found him at Petco and although we didn't adopt him that day because we already had 3 dogs and a cat, we couldn't get him out of our minds so 2 days later we went back to Petco thinking for sure he'd be gone....but there he was at the front of the cage meowing and begging for a home. We took him that day and within minutes of introducing him to our home, he was welcomed by all our other animals and was right at home. He loves to wrestle and sleep with our Dachshund, cuddle with our Husky and run and play with our older cat. 
He's amazing and thanks to the Moab Humane Society he has found his loving forever home. 
By Amy Taylor
a
---
Plotz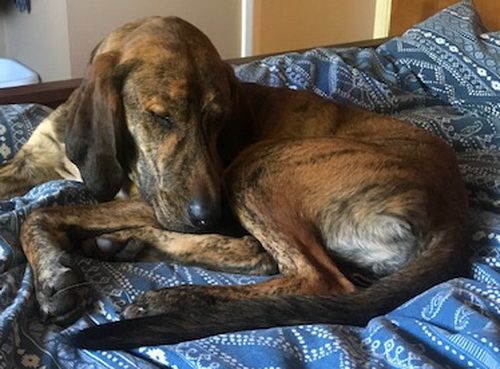 Plotz is the lovable Hound Dog you may have heard bellowing to the songs playing on the Humane Society holiday float this year.   Winning the hearts of his temporary foster family, Plotz now has a forever home with Tom, Bridget and canine buddy, Freddy.
---
Freeway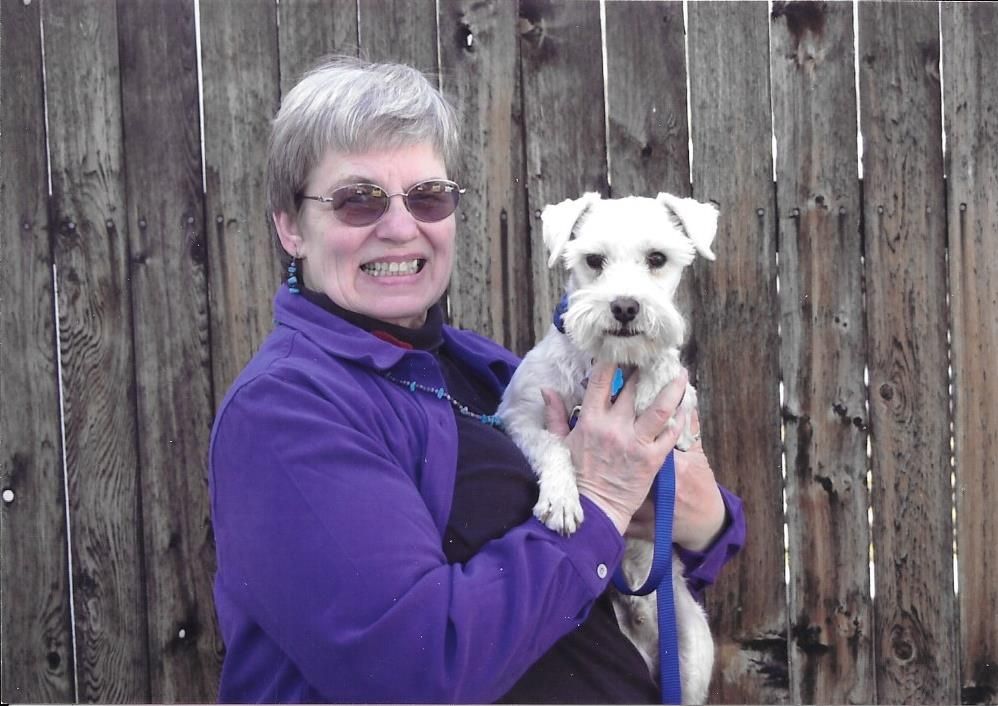 Freeway passed over the Rainbow Bridge June 11, 2018.
I thought I was going to foster an apricot poodle found wandering on the freeway. When my front door opened with my new charge, a pure-white Schnauzer-poodle mix raced across my living room, jumped into my lap, and said, "I'm home". I never had a chance. That was 14 years ago. Freeway has been in my lap ever since.
I could not have asked for a better companion. Freeway opened up a new world for me because his personality was one of caring and giving. No matter where I went in town, people asked about Freeway. They didn't know my name but they knew about him. He was a natural caregiver and I called him my comfort dog. He comforted me and anyone he was near.
I took him to classrooms, the library, hospice care center, and the hospital. Once, in an elementary school classroom, he went to one child sitting in a semi-circle on the floor and let her hug him, he then stood up and moved on to the next child until each child had a chance to hug him. Every Saturday for 10 years he attended story hour at the library. Each child would hold one of Freeway's legs. One time a little girl wanted his fluffy pom-pom tail. She turned it as far as it would go. When it didn't unscrew, she twisted it the other way. He didn't mind. At the hospital he figured out how to straddle the patient's legs in a wheelchair so his weight was not on the elderly person's lap.
Freeway was not only a comfort dog for people, but for other dogs. He helped me foster more than 72 dogs in 12 years. If a new dog needed cuddling, he did that. When a foster dog settled in, Freeway brought him a toy from his basket of toys and showed him how to play with it. He let other dogs sleep in his bed, eat his food, and take his toys, but if the other dog did something wrong, look out, he let out a series of sharp barks saying, "knock it off". Freeway even tried to foster a dog statue I was given. Freeway assumed it was a new foster dog and tried to play with it. He nudged it, brought it different toys, and tossed toys to it. When it didn't respond Freeway picked up all his toys and put them away in his basket as if to say, "If you don't want to play, it's not my problem". He then climbed in my lap and ignored the statue from then on.
Freeway has passed over the Rainbow Bridge. I thank God for every day of the many years I had him because he brought so much joy and gratitude into my life and other's lives. He was there when you wanted him and he was there when you didn't want him but he was not in your way. Freeway was unassuming, undemanding, and accepting of whatever came his way. He accepted dogs (and people) of all sizes, all colors, and all breeds. We could all be a little more like Freeway.
Sue Allemand
---
Griz
Griz, an elderly Lab, was found in Moab and brought to the Moab Animal Shelter May 2017.  Not long after his information was posted on the Humane Society website and Facebook page a family living in Steamboat Springs, CO  came to Moab to meet him.  It was love at first sight…Griz has found his forever family!
Pictured above from top left- Griz & his new buddy Blue, Griz & Clint find rivers to wade in, late spring snow storm in Steamboat Springs,  Griz loves snow!  Griz was a star at the hotdog bobbing during Blue's 14th birthday party in July, Pals.
Griz has been such a wonderful addition to our life!  Blue our other old guy has found a great companion too.  Thanks for all you do to help so many wonderful animals find loving homes and helping us find Griz! 
Karen and Clint
---
Bubba and Friends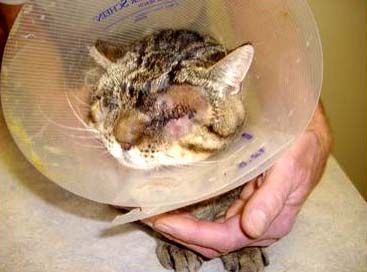 The Humane Society of Moab has started a Community Medical Fund for animals like Buddha that need a little extra help. Buddha's eyelashes curled in upon his eyes and constricted his vision. His left cornea had ruptured and so his left eye had to removed and his right eyelid was operated on as well. But that hasn't slowed this big guy down at all. Within two weeks of foster care, Buddha was running up and down the stairs, jumping up on counters (which was gently discouraged), and following his foster mom around asking about her day. He has rediscovered his confidence along with his sight and is now ready for a permanent home.
By Tricia Gundlach
---
Winter Fun with Jasper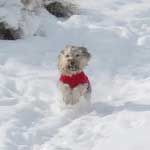 Jasper is one happy adopted dog! He and his brother Archie were abandoned in Moab last year. HSMV took them in and found them both excellent homes. Who would have thought that a 10 inch tall dog would love hiking in a foot of snow!
By Tricia Gundlach
---
Curly's Tail
Today Curly, our 1yr old Chesapeake Bay Retriever, is on his way home to Kansas. His adventure started back in July when he was brought into the Moab Animal Shelter. Shortly after his arrival there was a heavy influx of animals and the shelter needed help. The Humane Society of Moab Valley stepped in to assist by taking several dogs, Curly was one such dog.
A couple in the state of Kansas wrote to us asking about Curly. After many e-mails and conversations, they decided to make the drive out to Moab to see this wonderful boy. After speaking with their local vet, long discussions with the family & a cross country adventure from Kansas to Moab it was decided that this would be a good match for our boy. Curly, with his goofy charm and loving nature, won the hearts of this amazing couple.
Curly now looks forward to playing on a 10 acre ranch with his 5 new companions.
Update November 2012
"Curly" (featured in your Rescue Stories) the young energetic Chessie cross that we adopted two years ago quickly became the center of attention at our home near Manhattan Kansas. His name is now "Joey" as my wife said he reminded her of a young kangaroo with his ability to jump. When he came to us he was a still growing 35 pound youngster. He has filled out into a solid 85 pound healthy boy.
Joey shares our home with four other companions two black labs another Chessie and a senior Golden. Joey however is special as he is always by our side and would do about anything to earn praise.A favorite pastime is leaping to catch a ball. His vertical leap is absolutely amazing. To those who aren't familiar with Chessies: They swim like an otter. You have never seen a dog that loves to swim as much as a Chessie. Our Joey is classic. He would rather swim than run and can stay in the water for hours if we'd let him. His only challenge in the water is when our yearling Black Lab tries to climb on his back to help her when they are swimming together. She is swimming challenged but has great enthusiasm as long as our Chessies are in the water too. As you can tell our dogs are part of the family and we enjoy them dearly. Our special thanks to the Humane Society of Moab Valley for rescuing Joey. While he is still a "desert dog" at heart (he doesn't care for humidity) he is an important part of our family. Keep up the terrific job that you do!
By Carlin and Stephanie Murphy; Alma, KS
---
Brody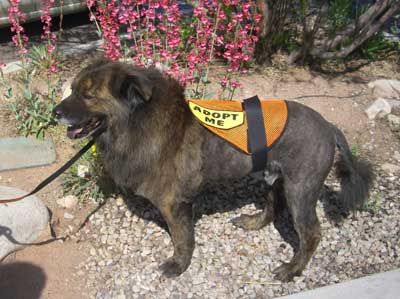 Brody's story is like many others in the animal rescue world. A witness saw his owners open the car door, push Brody out, and then take off down the highway. They were never located. A deputy brought Brody into the Moab City Animal Shelter where his story really began in January of 2011.
Brody is a brindle Chow-Chow mix with lots of soft fur. When he arrived he was a bit of a hairy mess, but with lots of love and attention is the dog you see today. Brody was walked and trained by volunteers at the shelter and occasionally brushed and bathed. He lived at the Moab City Animal Shelter for almost a year and during that time he learned basic commands, leash-walking skills and how to play with every other type of dog available. He was often taken to the Dog Park by volunteers and got along well with everyone he met.
In November of 2011, HSMV was able to place Brody in a dog foster home with two canine siblings and their humans and Brody has learned even more. He now knows how to be polite in the house and when eating with others, to sit calmly for a good brushing, to stick close on off-leash hikes and how to use the doggie door. He will even "shake" hands! Brody is not a needy or demanding dog and just wants to be near you. If you see Brody in his "Adopt Me" vest with his foster mom walking down Main Street make sure to stop and say "Hi!"
Update: ADOPTED!!! Thanks to numerous volunteers, a wonderful foster home with Nicole and Marshall here in Moab, and the help of the Animal Adoption Center in Jackson Hole, WY Brody has found his forever home up north. Finally he can put that fluffy coat to good use!
By Tricia Gundlach
---
Shelter cats Squeek and Floyd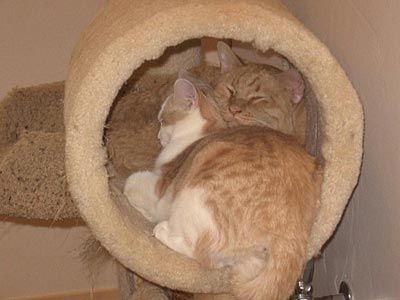 "Squeek (the large orange tabby) is the official cat greeter at the Moab City Animal Shelter. He has decided this is his home and the shelter humans respectfully agree. Ten months ago, Squeek decided to keep his friend Floyd (white and orange tabby).These two share their bed and every morning Floyd gives Squeek a back massage and then they make their rounds of the cattery together to check on new guests."
By Tricia Gundlach
---
Two Hearts Make a Whole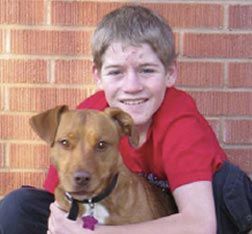 Nala is a beautiful pitbull mix that came to the Humane Society in the fall of 2004. Nala had been kept penned in a backyard with little to no socialization for the fi rst year and a half of her life. She was fostered by a Humane Society volunteer who worked with Nala to housetrain and socialize her both with people and other animals. Nala also received one-to-one instruction for basic commands and leash training.
In September of 2004, Sheila Maxfield came to the Humane Society Adoption Days to find a loving companion for her fourteen year old grandson Jake. Jake's therapist had recommended a pet for Jake. Jake and Nala immediately bonded and Nala went home with them that day.

By December the two were inseparable. Unfortunately, the Maxfields were renting a home and their landlord had decided to evict them for having a dog. But Sheila, seeing the difference Nala had made in Jake's life, decided to fight for both her grandson and Nala. Sheila contacted a disabilities lawyer in nearby Monticello to help her with the eviction order. Because Jake's therapist had recommended a pet, the lawyer was able to have Nala declared as a "service dog". Happily, Sheila, Jake and Nala were able to remain in their home.
Jake walks Nala every morning before school, after school and once again at night. He has continued to help Nala socialize with other people and dogs, as well as crate training her. Nala stays in a fenced yard when Jake is in school and sleeps inside every night. In return, she has helped Jake to set a consistent routine and learn both the responsibilities and joys of caring for an animal.
by Tricia Gundlach
Please support our sponsors!
---