Petco Foundation Adoption Partner helps Boots find his forever home.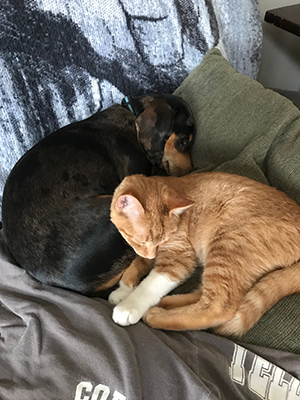 Boots has been a great addition to our family. We found him at Petco and although we didn't adopt him that day because we already had 3 dogs and a cat, we couldn't get him out of our minds so 2 days later we went back to Petco thinking for sure he'd be gone....but there he was at the front of the cage meowing and begging for a home. We took him that day and within minutes of introducing him to our home, he was welcomed by all our other animals and was right at home. He loves to wrestle and sleep with our Dachshund, cuddle with our Husky and run and play with our older cat. 
He's amazing and thanks to the Moab Humane Society he has found his loving forever home. 
By Amy Taylor
a
---
Plotz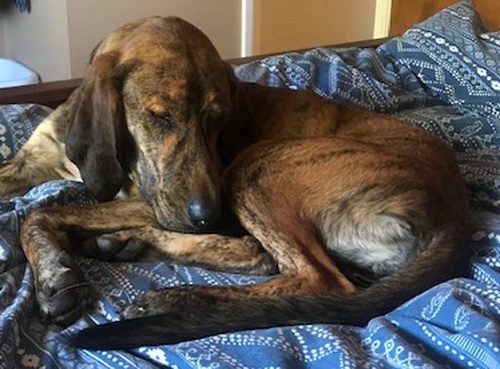 Plotz is the lovable Hound Dog you may have heard bellowing to the songs playing on the Humane Society holiday float this year.   Winning the hearts of his temporary foster family, Plotz now has a forever home with Tom, Bridget and canine buddy, Freddy.
---
Freeway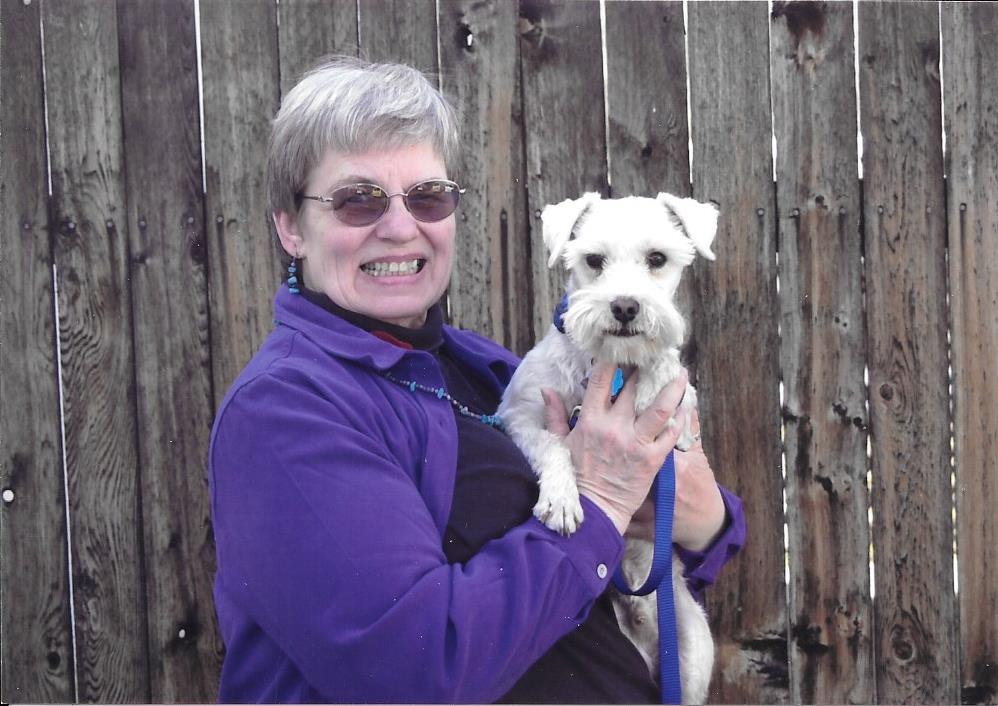 Sue Allemand and Freeway
Freeway passed over the Rainbow Bridge June 11, 2018.
I thought I was going to foster an apricot poodle found wandering on the freeway. When my front door opened with my new charge, a pure-white Schnauzer-poodle mix raced across my living room, jumped into my lap, and said, "I'm home". I never had a chance. That was 14 years ago. Freeway has been in my lap ever since.
I could not have asked for a better companion. Freeway opened up a new world for me because his personality was one of caring and giving. No matter where I went in town, people asked about Freeway. They didn't know my name but they knew about him. He was a natural caregiver and I called him my comfort dog. He comforted me and anyone he was near.
I took him to classrooms, the library, hospice care center, and the hospital. Once, in an elementary school classroom, he went to one child sitting in a semi-circle on the floor and let her hug him, he then stood up and moved on to the next child until each child had a chance to hug him. Every Saturday for 10 years he attended story hour at the library. Each child would hold one of Freeway's legs. One time a little girl wanted his fluffy pom-pom tail. She turned it as far as it would go. When it didn't unscrew, she twisted it the other way. He didn't mind. At the hospital he figured out how to straddle the patient's legs in a wheelchair so his weight was not on the elderly person's lap.
Freeway was not only a comfort dog for people, but for other dogs. He helped me foster more than 72 dogs in 12 years. If a new dog needed cuddling, he did that. When a foster dog settled in, Freeway brought him a toy from his basket of toys and showed him how to play with it. He let other dogs sleep in his bed, eat his food, and take his toys, but if the other dog did something wrong, look out, he let out a series of sharp barks saying, "knock it off". Freeway even tried to foster a dog statue I was given. Freeway assumed it was a new foster dog and tried to play with it. He nudged it, brought it different toys, and tossed toys to it. When it didn't respond Freeway picked up all his toys and put them away in his basket as if to say, "If you don't want to play, it's not my problem". He then climbed in my lap and ignored the statue from then on.
Freeway has passed over the Rainbow Bridge. I thank God for every day of the many years I had him because he brought so much joy and gratitude into my life and other's lives. He was there when you wanted him and he was there when you didn't want him but he was not in your way. Freeway was unassuming, undemanding, and accepting of whatever came his way. He accepted dogs (and people) of all sizes, all colors, and all breeds. We could all be a little more like Freeway.
Sue Allemand
---
Griz
Griz, an elderly Lab, was found in Moab and brought to the Moab Animal Shelter May 2017.  Not long after his information was posted on the Humane Society website and Facebook page a family living in Steamboat Springs, CO  came to Moab to meet him.  It was love at first sight…Griz has found his forever family!
Pictured above from top left- Griz & his new buddy Blue, Griz & Clint find rivers to wade in, late spring snow storm in Steamboat Springs,  Griz loves snow!  Griz was a star at the hotdog bobbing during Blue's 14th birthday party in July, Pals.
Griz has been such a wonderful addition to our life!  Blue our other old guy has found a great companion too.  Thanks for all you do to help so many wonderful animals find loving homes and helping us find Griz! 
Karen and Clint
---
Tiny Tim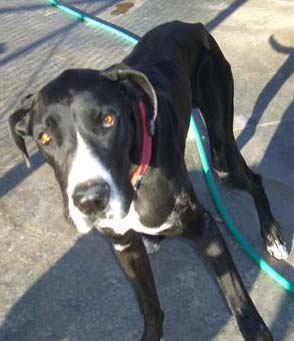 Tiny Tim, a Great Dane, came into the Moab City Shelter this winter. He had an accident when he was young and his left front leg was fused at the shoulder and elbow joints and his hips had been affected as well. But that didn't slow his adoption down!
HSMV recruited some volunteers to walk and socialize him and within weeks he was adopted out from the shelter. Tiny Tim found a wonderful one-level home with an owner who loves him and enjoys their walks together.
By Tricia Gundlach
a
---
TANGO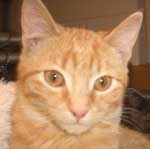 Tango is a sweet, small female orange tabby with a deformed right paw. However she doesn't know that and she gets along quite well indoors. Her favorite thing is to snuggle with her foster mom while she is reading. Most of the time, these cats and dogs don't even realize they have a disability, much less allow it to slow them down. There is the right home out there for every pet!
By Tricia Gundlach
---
Budda and Friends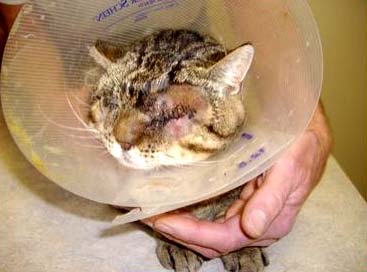 The Humane Society of Moab has started a Community Medical Fund for animals like Buddha that need a little extra help. Buddha's eyelashes curled in upon his eyes and constricted his vision. His left cornea had ruptured and so his left eye had to removed and his right eyelid was operated on as well. But that hasn't slowed this big guy down at all. Within two weeks of foster care, Buddha was running up and down the stairs, jumping up on counters (which was gently discouraged), and following his foster mom around asking about her day. He has rediscovered his confidence along with his sight and is now ready for a permanent home.
By Tricia Gundlach
---
Winter Fun with Jasper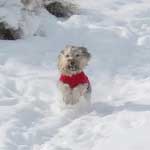 Jasper is one happy adopted dog! He and his brother Archie were abandoned in Moab last year. HSMV took them in and found them both excellent homes. Who would have thought that a 10 inch tall dog would love hiking in a foot of snow!
By Tricia Gundlach
---
Curly's Tail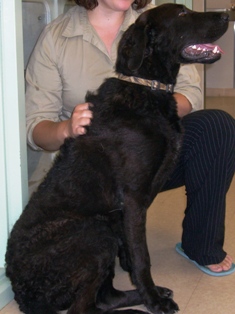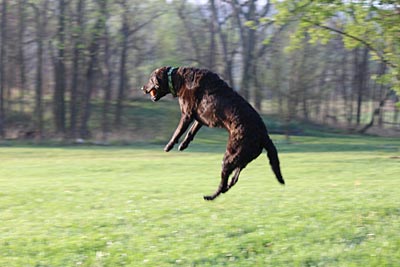 Today Curly, our 1yr old Chesapeake Bay Retriever, is on his way home to Kansas. His adventure started back in July when he was brought into the Moab Animal Shelter. Shortly after his arrival there was a heavy influx of animals and the shelter needed help. The Humane Society of Moab Valley stepped in to assist by taking several dogs, Curly was one such dog.
A couple in the state of Kansas wrote to us asking about Curly. After many e-mails and conversations, they decided to make the drive out to Moab to see this wonderful boy. After speaking with their local vet, long discussions with the family & a cross country adventure from Kansas to Moab it was decided that this would be a good match for our boy. Curly, with his goofy charm and loving nature, won the hearts of this amazing couple.
Curly now looks forward to playing on a 10 acre ranch with his 5 new companions.
Update November 2012
"Curly" (featured in your Rescue Stories) the young energetic Chessie cross that we adopted two years ago quickly became the center of attention at our home near Manhattan Kansas. His name is now "Joey" as my wife said he reminded her of a young kangaroo with his ability to jump. When he came to us he was a still growing 35 pound youngster. He has filled out into a solid 85 pound healthy boy.
Joey shares our home with four other companions two black labs another Chessie and a senior Golden. Joey however is special as he is always by our side and would do about anything to earn praise.A favorite pastime is leaping to catch a ball. His vertical leap is absolutely amazing. To those who aren't familiar with Chessies: They swim like an otter. You have never seen a dog that loves to swim as much as a Chessie. Our Joey is classic. He would rather swim than run and can stay in the water for hours if we'd let him. His only challenge in the water is when our yearling Black Lab tries to climb on his back to help her when they are swimming together. She is swimming challenged but has great enthusiasm as long as our Chessies are in the water too. As you can tell our dogs are part of the family and we enjoy them dearly. Our special thanks to the Humane Society of Moab Valley for rescuing Joey. While he is still a "desert dog" at heart (he doesn't care for humidity) he is an important part of our family. Keep up the terrific job that you do!
By Carlin and Stephanie Murphy; Alma, KS
---
Brody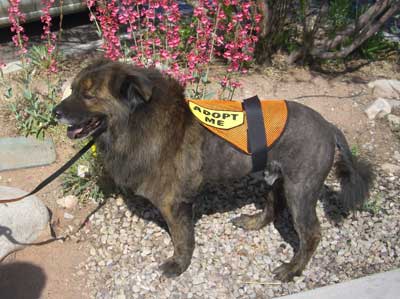 Brody's story is like many others in the animal rescue world. A witness saw his owners open the car door, push Brody out, and then take off down the highway. They were never located. A deputy brought Brody into the Moab City Animal Shelter where his story really began in January of 2011.
Brody is a brindle Chow-Chow mix with lots of soft fur. When he arrived he was a bit of a hairy mess, but with lots of love and attention is the dog you see today. Brody was walked and trained by volunteers at the shelter and occasionally brushed and bathed. He lived at the Moab City Animal Shelter for almost a year and during that time he learned basic commands, leash-walking skills and how to play with every other type of dog available. He was often taken to the Dog Park by volunteers and got along well with everyone he met.
In November of 2011, HSMV was able to place Brody in a dog foster home with two canine siblings and their humans and Brody has learned even more. He now knows how to be polite in the house and when eating with others, to sit calmly for a good brushing, to stick close on off-leash hikes and how to use the doggie door. He will even "shake" hands! Brody is not a needy or demanding dog and just wants to be near you. If you see Brody in his "Adopt Me" vest with his foster mom walking down Main Street make sure to stop and say "Hi!"
Update: ADOPTED!!! Thanks to numerous volunteers, a wonderful foster home with Nicole and Marshall here in Moab, and the help of the Animal Adoption Center in Jackson Hole, WY Brody has found his forever home up north. Finally he can put that fluffy coat to good use!
By Tricia Gundlach
---
Beautiful Bella
Bella was found when she was four months old playing in the duck pond at Old City Park. She did not have a collar and tags and no one reported this sweet girl missing so she lived at the Moab City Shelter for the next five months until a foster home was found for her.
Bella gained a lot of dog experience at the shelter and is wonderful with other dogs. She was great with the volunteer dog walkers and quickly learned Sit and Down as well as some polite leash manners and good Doggie Park etiquette.
Since being at her new foster home, Bella has learned even more. She still has her puppy exuberance so her foster mom has gone with the time honored method – "A tired dog is a good dog" and they go for lots of hikes. She has also fully house trained Bella and given her a nice soft dog bed where Bella can chill out in the house and chew away at her Kong dog toy. Bella is most likely a lab/dane mix and she has the longest legs and the softest coat. She would make a wonderful addition to a family home with older kids (she's still learning to use those long legs!)
By Tricia Gundlach
---
Wherefore Art Thou Romeo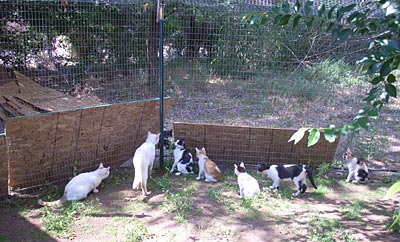 Romeo is a flame point Siamese mix and was part of an extended feline family group with 10 other young cats and kittens. They were living in a trailer until their owners moved and left them all behind.
When our Feral Cat Coordinator Margaret Griffith learned of the situation she immediately stepped in and all 11 cats were moved to her home, which has an outside enclosure and a 2 story cat house.
All of the cats but Romeo were adopted quickly. He was the friendliest, but didn't see as well as the others and an early injury to his back legs sometimes caused an uneven gait when he runs. He doesn't know that though and still loves to play with the string and climb trees.
Romeo is now just over a year old and all of his playmates have been adopted out. He is still looking for a family that will love him and his confident personality. Romeo socializes well with other cats and all people, he is litter-boxed trained and comfortable both indoors and out. Romeo will come when called and loves to meet his foster mom at the gate at the end of her day.
Update: August 29, 2012- Romeo was adopted and found his forever home.
By Tricia Gundlach
---
Savannah

Savannah came to the HSMV July 2011. She was very obese and had difficulty walking due to her size and lack of exercise and at the time did not "play well with the other dogs". Savannah's original owner, no longer able to care for Savannah due to her own maturing age and health, surrendered her to the HSMV. After a visit to the vet Savannah was diagnosed with a thyroid condition and gum disease. She is now on medication and feeling better than ever. Her foster volunteer takes her on daily walks and she's beginning to smile again. Savannah longs for a loving forever home where she can be a part of her new family.
Update: "ADOPTED!! Our senior dog, Savannah was adopted by a wonderful home and is now content living on a small ranch in Wyoming."
By Tricia Gundlach
---
Shelter cats Squeek and Floyd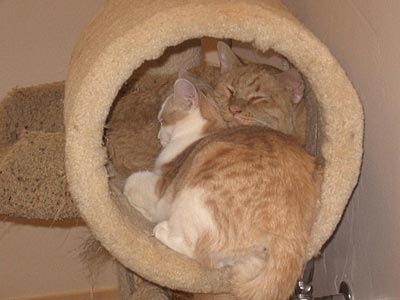 "Squeek (the large orange tabby) is the official cat greeter at the Moab City Animal Shelter. He has decided this is his home and the shelter humans respectfully agree. Ten months ago, Squeek decided to keep his friend Floyd (white and orange tabby).These two share their bed and every morning Floyd gives Squeek a back massage and then they make their rounds of the cattery together to check on new guests."
By Tricia Gundlach
---
The Odyssey of Scott… A Rescue Tail with Heart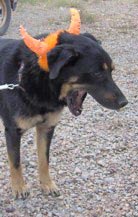 I met Scott when I came to interview for the Director of Animal Services position in September of last year. He was (and still is!) an older Shepherd/Rottweiller mix who is extremely personable, nice with other dogs, people, babies, plants, molecules, anything. He just liked watching the world go by. While many of the other dogs barked their heads off, Scott just chilled, enjoying the show.
When I arrived in Moab to start my position as Director of Animal Services, I went out to where he was boarded and found out very quickly why he had been in the adoption pool longer than any other dog: he had this thing about escaping. It bordered on phobic. If a door was open, he was flying for it!
As I ran to try and catch him, I watched as he flung himself on barbed wire at the boarding facility. I saw his expression as he got over the fence-absolute joy! He lived for that moment when he out smarted whatever was trying to contain him. He thrived in chaos. In essence he was an anarchist. No wonder I hit it off with him!!
We transferred him to another more secure location and his escape opportunities were non existent. He pouted for a few days, but enjoyed the ever changing population at the day care. He still liked to be high, so they built him a ledge on top of the entrance way to the dog area, well away from the exterior fences and it made him the official greeter.
Nice guy, unrealistically adoptable in the land of the 5' field fence, he stayed in boarding way too long. The reality of dogs that habitually escape is that eventually people get tired of looking for him, deep down their feelings get hurt because he continues to run away and or they just simply don't come home one day as "something" (car vs dog-the dog never wins) gets in the way of their return.
One day it hit me "If he was in Los Angeles, he would have been adopted 20 times by now! Scott needs to be moved to a higher crime area!"
I made arrangements to swap him with another dog at the Utah Animal Adoption Center. I had him micro chipped right before-just in case he got loose again and lo and behold, he already had a micro chip!! Scott may not have to go to SLC after all!
I found out that his name was Taz and that he was probably about 6 years old. That he had lived in Vernal and the last time he had been to the vet there was in 2005. They remembered him and his escapist ways! I called the numbers listed on his file as well as wrote a letter to the address but got so response. So off we went to the Great Salt Lake.
They were pretty crowded at the facility, but they had 10 foot fences and promised that he would never be out there unsupervised. I felt that they would care for Scott and hopefully find him a nice family.
We brought back a very sweet heeler mix (the official dog of Moab) and she was promptly adopted by a very nice lady. Scott stayed in SLC and I became worried that maybe he would end up long term there as well.
About a month after we moved him, I got an email saying that Scott was adopted by a nice older couple who lived in a condo (a controlled environment-whoo hoo!!) and that he was finally home.
Sometimes we just have to think outside the box and go that extra mile for the dogs that through no fault of their own languish in the system. Scott deserved nothing less.
by Elaine Allison, CPDT
---
Casper – The Lucky Ghost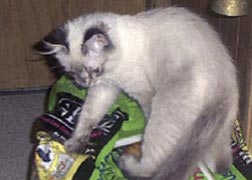 Poor little Casper arrived at the pound in very bad shape. Just five-weeks old and very thin, his eyes were so infected that it looked like someone had inserted a marble under each eyelid. He could hardly hold his head up. The humane society's kitten fosterer or "Meowmie" (as she is called by her cats) took in the tiny starved kitten. He was named "Casper" because he was such a little thin white wraith. It was defi nitely touch-and-go for the first few weeks.
At first, Casper need to be tube fed, because he was too weak to suck on a bottle. His eyes were soaked, washed and medicated every two hours and he received antibiotics twice a day. It was several weeks before Casper was strong enough drink on his own, maintain his body temperature, or even walk. Gradually, he was able to eat out of a dish and his eyes began to clear-up. He had made it!

A new and improved Casper
Casper is now 4 months-old. He is no longer white, but a lovely semi-longhaired blue point. His one eye still needs medication, but hopefully will heal. Although he only has partial sight in his eyes, he now runs and plays with his toys and the other cats. Meowmie just couldn't let go of this wonderful little guy and has adopted him as part of their furry family. A definite success story!
by Pam Walston
---
Two Hearts Make a Whole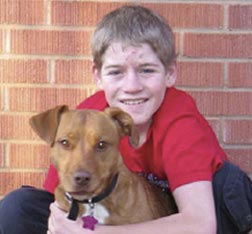 Nala is a beautiful pitbull mix that came to the Humane Society in the fall of 2004. Nala had been kept penned in a backyard with little to no socialization for the fi rst year and a half of her life. She was fostered by a Humane Society volunteer who worked with Nala to housetrain and socialize her both with people and other animals. Nala also received one-to-one instruction for basic commands and leash training.
In September of 2004, Sheila Maxfield came to the Humane Society Adoption Days to find a loving companion for her fourteen year old grandson Jake. Jake's therapist had recommended a pet for Jake. Jake and Nala immediately bonded and Nala went home with them that day.

By December the two were inseparable. Unfortunately, the Maxfields were renting a home and their landlord had decided to evict them for having a dog. But Sheila, seeing the difference Nala had made in Jake's life, decided to fight for both her grandson and Nala. Sheila contacted a disabilities lawyer in nearby Monticello to help her with the eviction order. Because Jake's therapist had recommended a pet, the lawyer was able to have Nala declared as a "service dog". Happily, Sheila, Jake and Nala were able to remain in their home.
Jake walks Nala every morning before school, after school and once again at night. He has continued to help Nala socialize with other people and dogs, as well as crate training her. Nala stays in a fenced yard when Jake is in school and sleeps inside every night. In return, she has helped Jake to set a consistent routine and learn both the responsibilities and joys of caring for an animal.
by Tricia Gundlach
Please support our sponsors!