October 2019 HSMV participated in the BEACON Afterschool Lights On Celebration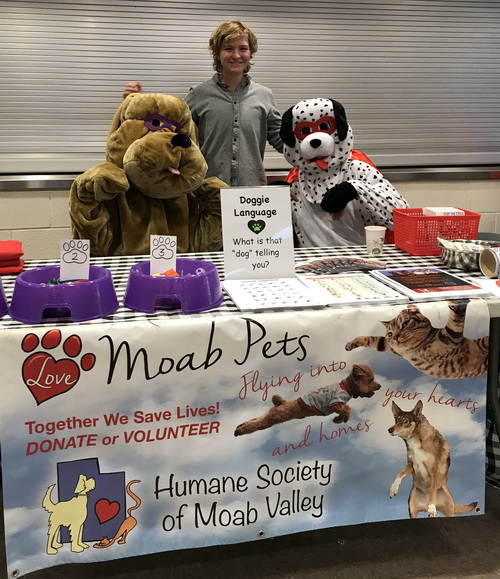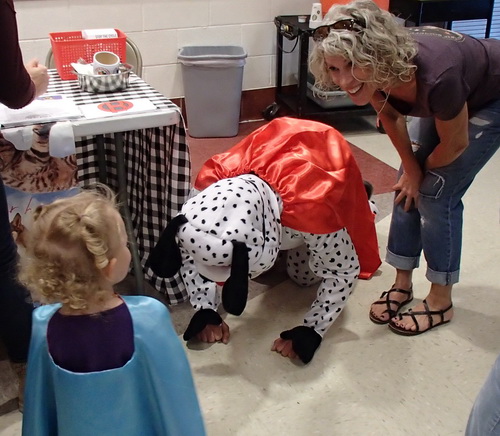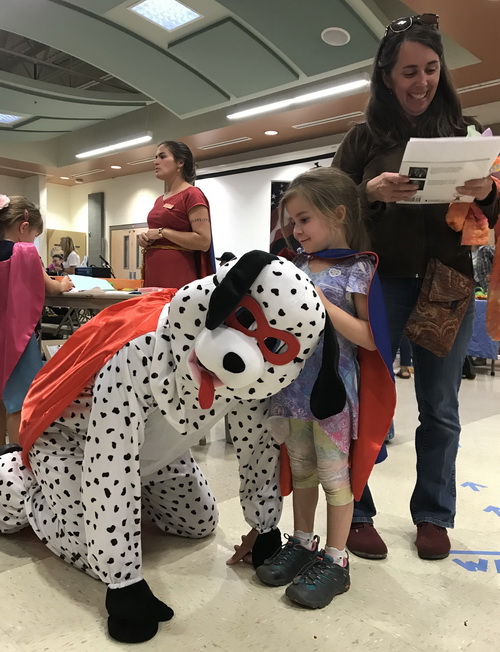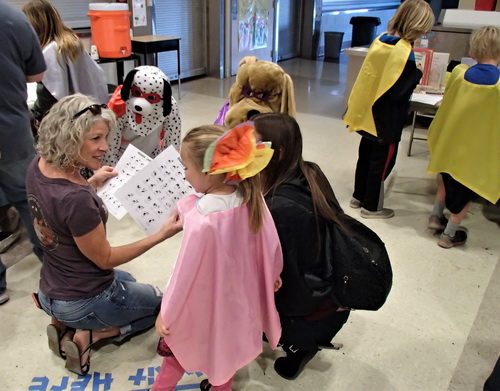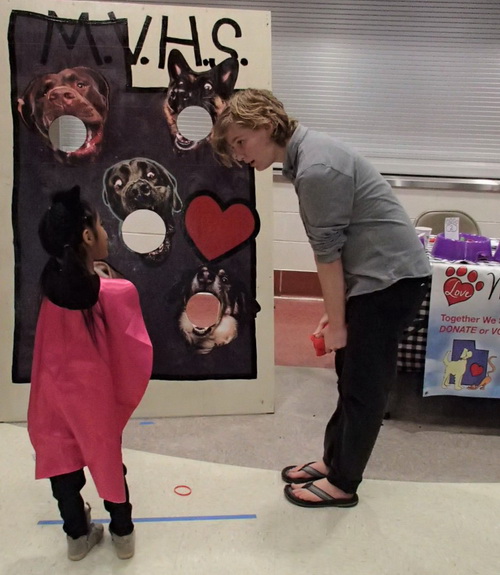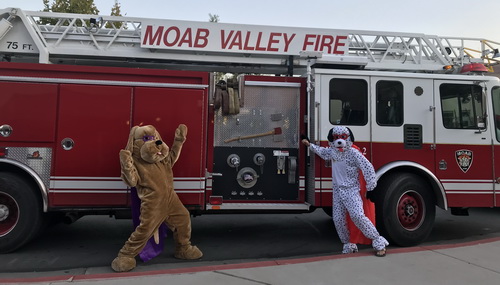 2019 Paws for the Cause Fundraiser at LaSal House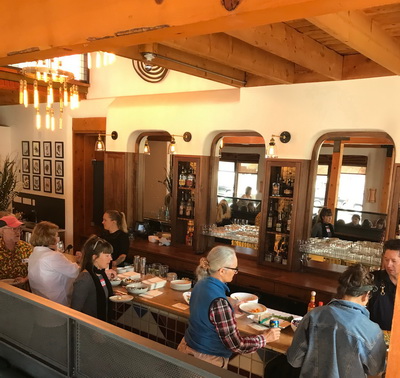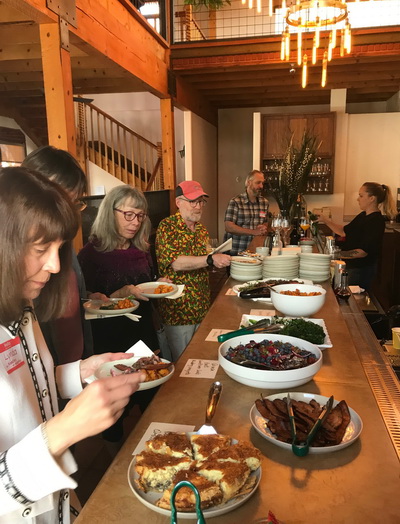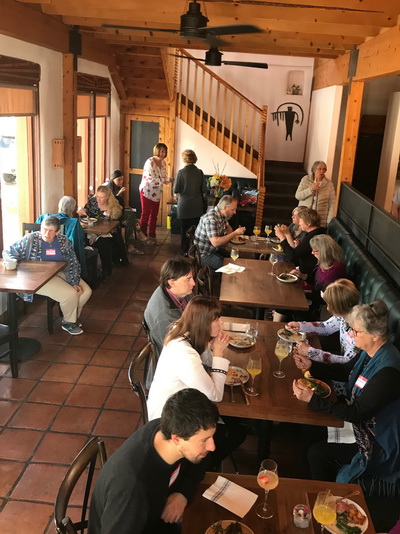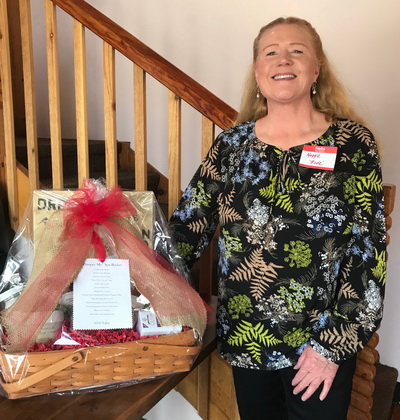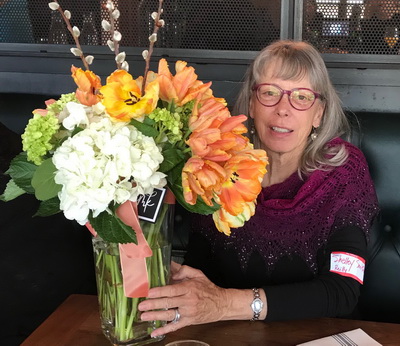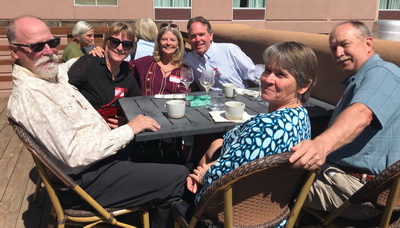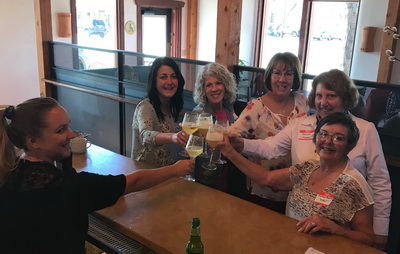 2018 Moab Holiday Light Parade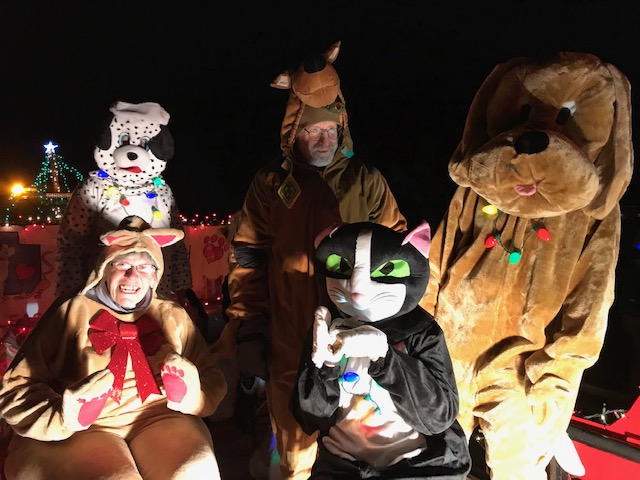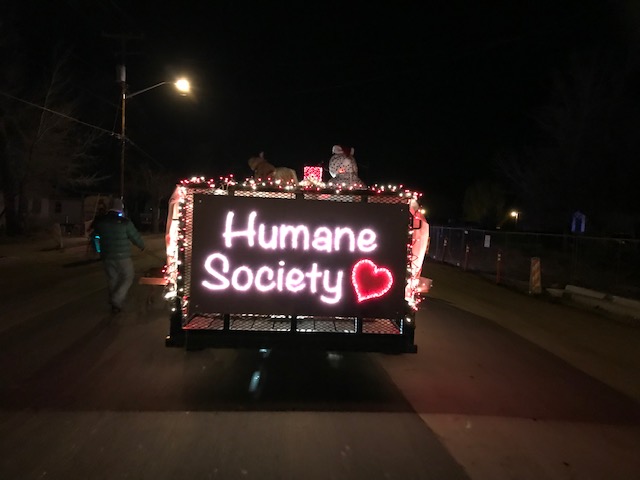 Humane Society Holiday float with volunteers having fun dressed in their favorite costumes.
---
Special Holiday Gifts for the Shelter dogs and cats!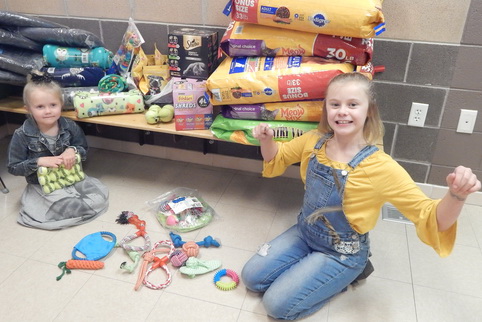 The dogs and cats at the Moab City Animal Shelter would like to thank the Fox family and the many other community members who have donated pet food, supplies and toys this Holiday Season!
---
2018 Annual Board Dinner at Moab Brewery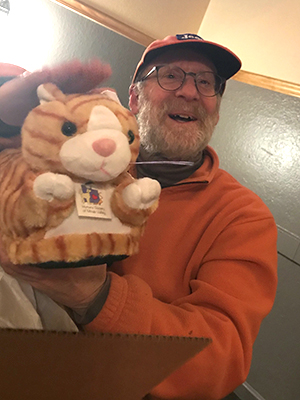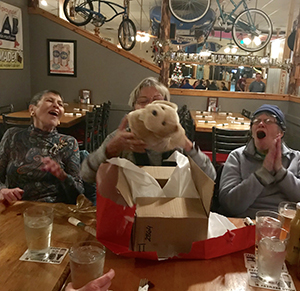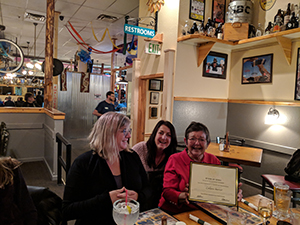 ---
Red Rock 4-Wheelers donates $250 to Humane Society!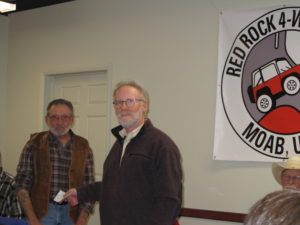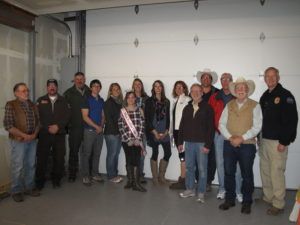 ---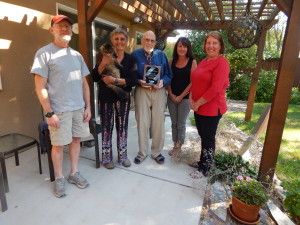 Humane Society of Moab Valley recognizes and thanks Hans and Madeleine Weibel with a plaque of appreciation for their significant contributions over many years and for bettering the lives of animals in our community. Pictured from left is Pete Kaufman, Madeleine Weibel, Hans Weibel, Leigh Ryan and Saxon Sharpe.
---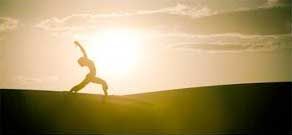 Each month Moab Yoga chooses a Moab non-profit to support.  Moab Yoga offers a Community Yoga Class every Sunday at 4:00.  The class cost is donation-based and 100% of its profit from the class is donated to a chosen non-profit.  During the month of December Moab Yoga donated $115.50 to the HSMV!  Thanks Moab Yoga Team, what a great way to help the homeless pets of Moab!
---
Rock 4-Wheelers has donated $300 to the Humane Society! Three Cheers!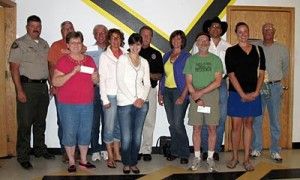 Partners in proceeds
Posted: Wednesday, August 28, 2013 8:00 pm Sun News
---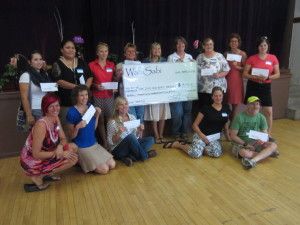 WabiSabi awarded $18,772.41 to its 13 Nonprofit Partners on Monday,
Aug. 19 for the first half of 2013. Money granted comes from proceeds from WabiSabi's two thrift stores in Moab. The money is divided by votes from donors and shoppers who choose which non-profit to support. Included in photo from left to right are: Rhiana Medina, Moab Valley Multicultural Center; Mel Gilles, WabiSabi; Cora Shonie, Native American Club; Laurie Collins, Moab Arts and Recreation Center; Stephanie Dahlstom, BEACON; Jody Ellis, RSVP; Emily Niehaus, Community Rebuilds; Jaylyn Hawks, Seekhaven; Abby Scott, Canyonlands Community Recycling; Debra Officer, Family Support Center; Dannette Johnson, Moab Free Health Clinic; Pete Kaufman, Moab Valley Humane Society; and Erin Trim, Youth Garden Project. [Courtesy photo]
---

Click for Info: Lifesaving Grant keeps trap/neuter/return (TNR) program on track
---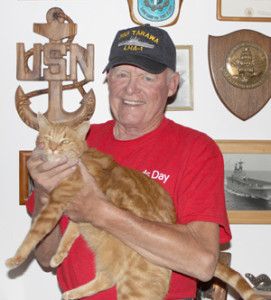 Unsung Heroes – Jim Moulter
by Laura Haley, contributing writer
Jim Molter has always loved cats. So when he and his wife, Mary, moved to Moab in 2004, they say it only made sense to volunteer time at the Moab Valley Humane Society.
"We wanted to meet people who thought like us," Mary Molter explained.
It was there that they met Margaret Griffith, a Moab woman who takes care of the large population of feral cats that call the area home.
"Margaret would take a sack of food out and split it open on the ground," Jim Moulter said. "Within a couple of days the food would be wet and mildewed."
It was obvious to Moulter that this method of feeding the felines wasn't the most efficient, so he took it upon himself to design and build gravity feeders that would enable the cats to eat clean, dry food, but would also keep other critters like raccoons and skunks away. Mary estimates that Jim has built close to twenty-six feeders for the program, and that each feeder provides food for eighteen to twenty cats.
Griffith said that having the feeders was a game-changer for the program. "Now cats come to one place rather than wandering all over the neighborhood," she said. That makes them easier to trap so that they can be spayed or neutered.
The Moulters went out once a week, every week, to refill all the different feeders. It's hard work, hauling around 50-pound sacks of cat food to pour into each feeder, and in the last few years, Jim's his arthritis has gotten worse, making it difficult to perform that task, he said. But that hasn't stopped him from helping in other ways.
Food wasn't the only problem that Griffith was having with the cats. In an attempt to help reduce the numbers of feral cats, Griffith runs a program through which the cats are trapped, spayed or neutered, and then re-released. Optimally, according to Mary Moulter, the cats are returned to the area in which they were caught. However, that wasn't always possible, which meant that there were often cats with nowhere to go.
Jim ended up taking an old children's playhouse and converting it into a "halfway house" for the cats to stay until a permanent home is found, he said.
"He did a phenomenal job," Griffith said. "Some people just slap things together. I don't think Jim even knows what that means."
Jim also designed and built the red boxes that can be found in establishments around town for soliciting donations for the local Humane Society. Prior to his help the group used mayonnaise jars to collect money. But because the jars were so easy to get into, the money often disappeared before anyone from the Humane Society could collect it, according to Moulter. Now the boxes are locked, though that unfortunately hasn't stopped people from taking the money out of them, his wife said.
When Jim Moulter isn't busy helping build a new home for the cats, he's hard at work at one of his other passions: four-wheeling.
"I'm the vice president of the Moab Friends-For-Wheelin' club," he said. Every year, Moulter and several other members of the club work with the Bureau of Land Management to help clean up off-road trails, mend fences, and assist with any other work that might be needed along backcountry trails. The group recently provided drinks to runners of the Moab Trail Marathon.
About a year ago, the Moulters told Griffith that she would need to find some more volunteers to help out with the feral cat program because they are becoming less physically able to do the work.
"They gave me a year's notice," Griffith said. "But that didn't make it any easier when they finally left. There are three of us now doing their job."
Jim and Mary Moulter said that as they get older, there are more and more things they find they can't do. But for now, they keep doing as much as they can to help out, even providing a home for five previously feral cats.
"He works like you wouldn't believe," Mary Moulter said. "He's always building something. He never says no."
For her part, Griffith credits Jim for helping keep the feral cat program going in the area.
"I couldn't have done this without him," Griffith said. "All the things that needed to be done, he did."
Read more: Moab Times-Independent
---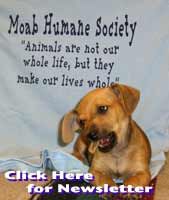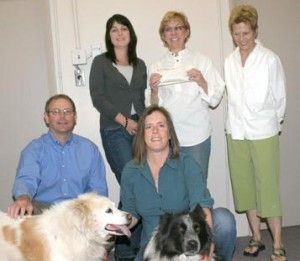 Click here for the Spring 2013 newsletter
Click here for the Fall 2012 newsletter
Special Thanks to the Times Independent
for creating the March Pet Photo Contest!
And Thanks to all of the citizens of Moab that voted for their favorite pet, $2,303 was raised for the Humane Society of Moab to help the homeless cats and dogs of Moab!