2022 Paws for the Cause
Our new venue for Paws for the Cause was the Desert Bistro. Special thanks to Leslie and Dylan the owners of Desert Bistro for sponsoring our fundraising event this year!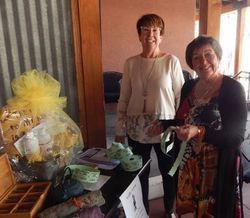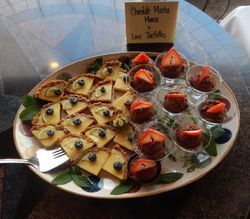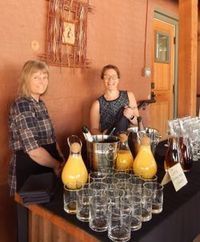 ---
Responsible Pet Ownership and Safety Lesson at Moab Charter School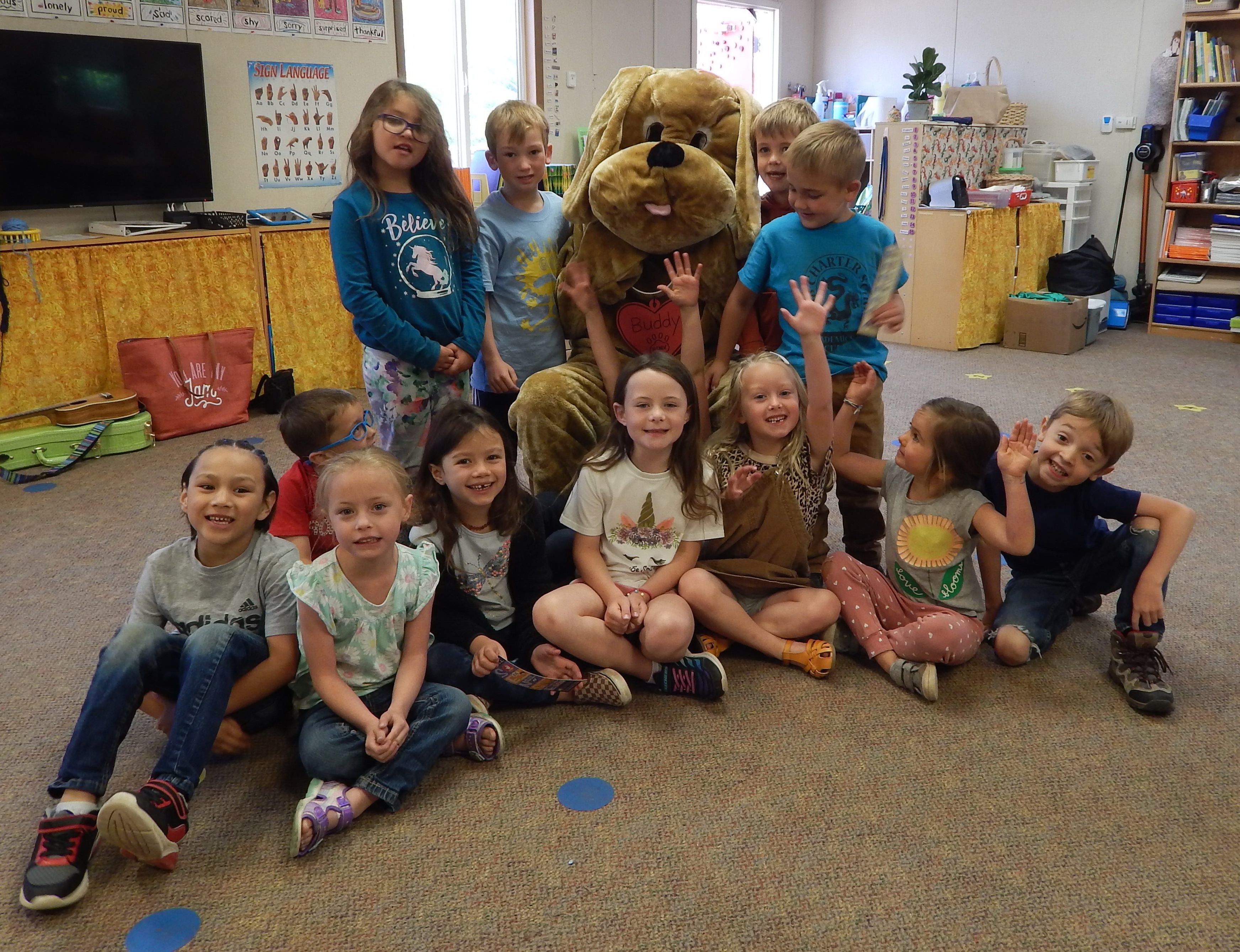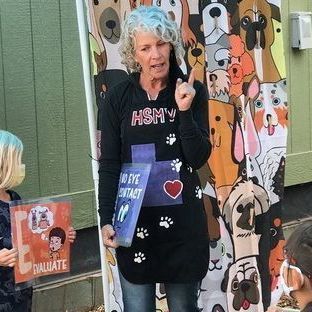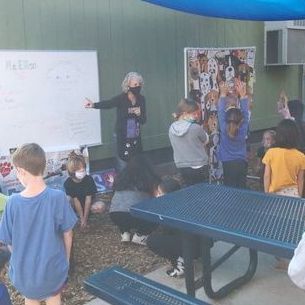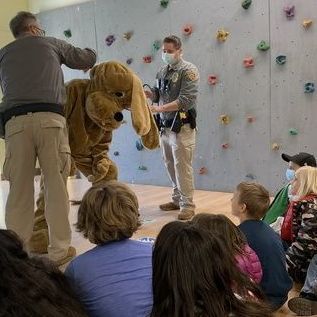 Humane Society of Moab Valley teaches children, grades K-3 at Moab Charter School about safety and responsibilities of having a pet.  Lessons include Dog Danger, Dog Language, Strays, Animal Control, and Adoption.
We believe that animal welfare education not only includes educating adults about the importance of spay/neuter, pet health, pet safety, and pet etiquette but educating young people about the responsibilities that come with pet ownership. Understanding the responsibilities of having a pet ensures that the pet is well cared for, however, when a child learns to care for a pet, that child learns to assume responsibility at a young age. Responsible pet ownership is at the heart of HSMV's mission.
Photos:  HSMV volunteer Ellen Amuso, and Kevin Fitzgerald (in the dog costume) and Animal control officers Mark Sutton and Mikeal Ellington.
January 2022
---
COMMUNITY CAT CARETAKERS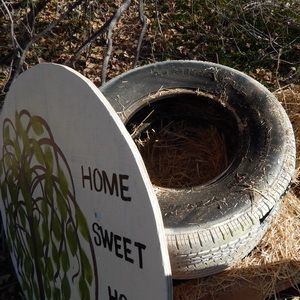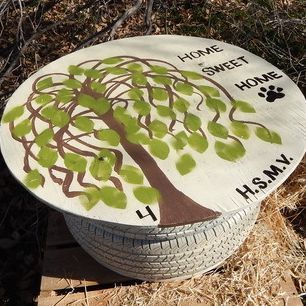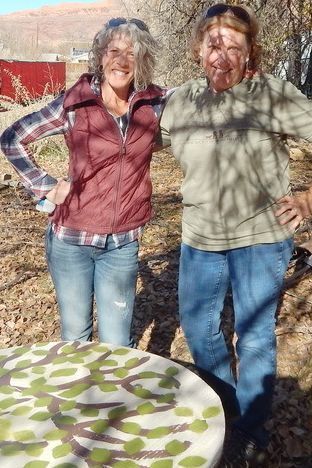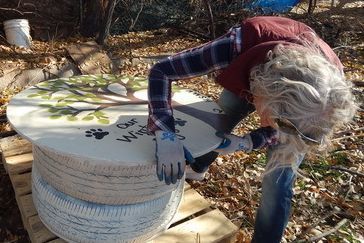 Have you ever noticed a cat with the top of one of its ears tipped skittering to get out of your way? If so, this is likely a community, or feral, cat that is wary of people, unadoptable, and lives outdoors on its own. The squared off ear shows that it has been sterilized so that it cannot reproduce.
The program, started more than 20 years ago, is called Trap Neuter Return (TNR). Volunteers trap cats humanely and take them to a veterinarian where they are sterilized, vaccinated, and have one ear clipped. The cats are returned to their colony site where they are provided continuing care by volunteers. The cats are considered wild with no owners.
HSMV provides dry food in gravity feeders and fresh water to keep cats healthy and nourished. Feeding encourages homeless cats to stay in specific areas where they can be monitored and new cats sterilized. Available food reduces predation on birds. Some locations have small shelters where cats can keep warm in the winter. 
Photo caption: Volunteers place winter shelters lined with straw for the cats. Shelters were made by volunteers with donations from Walker's True Value Hardware, Grand Tire Pros, and Farm and City Feed.
December 2021
---
Bark Park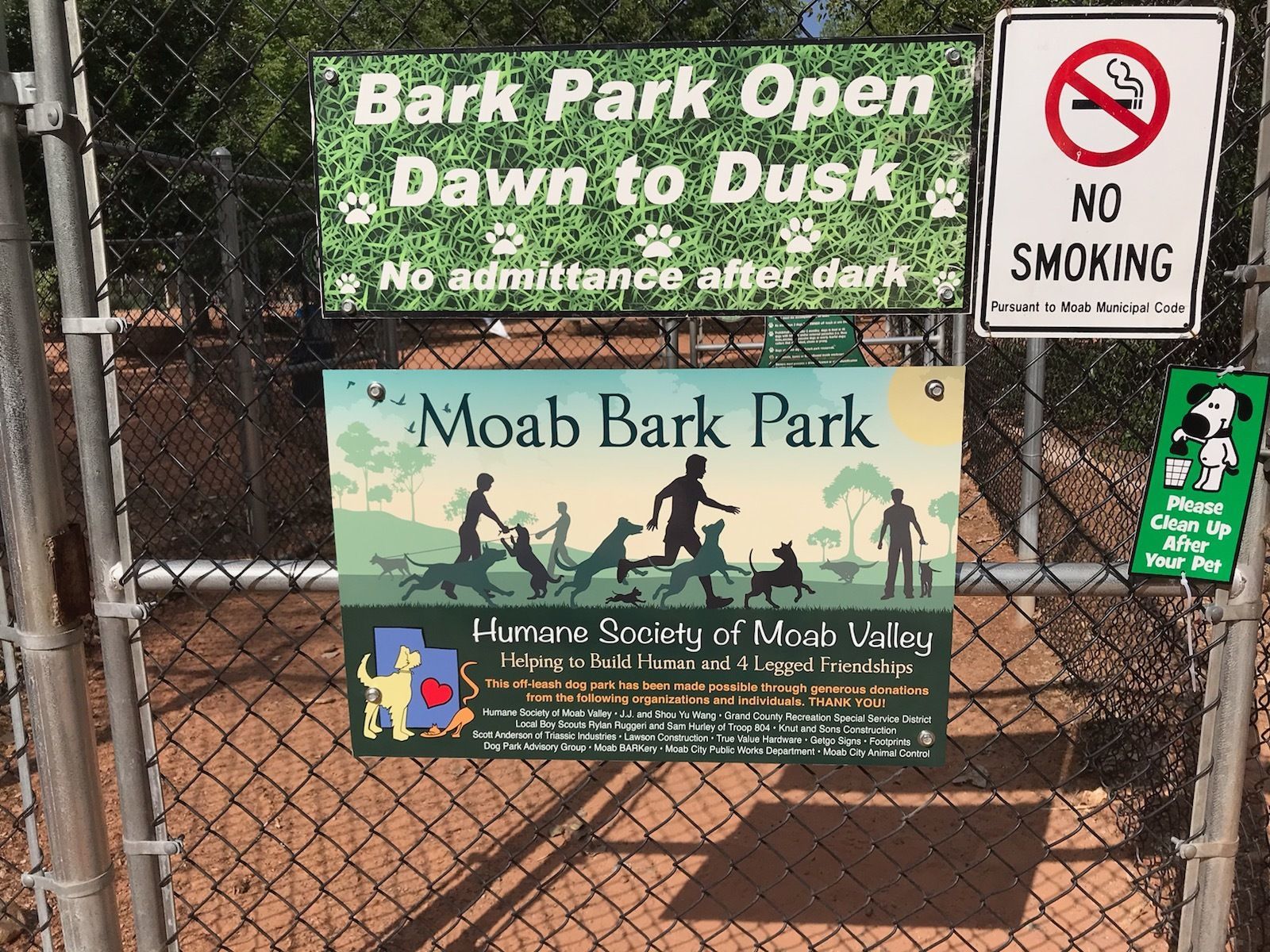 Humane Society replaces the worn out Bark Park sign with new!  Special thanks to Pipe Dream for the beautiful design work.
August 2021
---
Utah Nonprofits Association Awards its Highest Honor to Humane Society of Moab Valley
Humane Society of Moab Valley (HSMV) achieved a significant milestone by earning the Utah Nonprofits Association Credential. The Credential demonstrates HSMV's commitment to excellence by implementing best practices in nine areas critical to becoming an outstanding nonprofit organization. These areas include: Advocacy and Civic Engagement, Board Governance, Finance and Legal, Fundraising and Development, Human Resources, Leadership and Organizational Culture, Marketing and Communication, Outcomes and Evaluations, and Volunteer Management.
"We are the second nonprofit in the entire state to earn the Credential and we are very proud of our accomplishment. We take being a nonprofit seriously and we are committed to serving our community and its animals using best practices. This Credential assures our community and our supporters that we are run honestly, effectively, and efficiently," said Leigh Ryan, Executive Director of HSMV.
To earn just one Badge, Humane Society of Moab Valley sent staff and board members to nine hours of training to learn state-of-the-art practices from a Subject Matter Expert with the experience in both the discipline and in nonprofit management. Instruction focused on the delivery of the concepts and skills needed to increase the impact of their efforts. After completing the training, HSMV applied what was learned to their practices and policies. They consulted with the Subject Matter Expert, received and integrated that expert's specific feedback on improving their practices, examined the many resources Utah Nonprofits Association provided, and submitted for approval documentation that demonstrated that they had integrated Best Practices in their organization. They completed the above nine times and earned all nine UNA Credential Badges.
"We are grateful to Utah Nonprofits Association for offering these courses to help us become a better organization. The work we did helped us create a high-functioning nonprofit worthy of public confidence and the Moab community's trust," said Ryan.
March 2021
---
Humane Society celebrates 20 years
Maggie McGuire, Moab Sun New
 June 25, 2020      
The Humane Society of Moab Valley helps find homes for stray cats and dogs in the
Moab area, like these kittens. The organization is celebrating its
 twentieth anniversary in 2020.
The Humane Society of Moab Valley was started in 1999 with "no money, no office, no phone, and no foster homes," staff say. Twenty years later, the organization and the animals in its care are thriving.
"This year we celebrate our 20th anniversary," said Leigh Ryan, HSMV executive director.
"Many people and businesses in the Moab Valley contributed to the success of HSMV as volunteers, board members, foster parents, and donors for two decades," Ryan said, commenting that the road from a loose organization fostering community animals to a groundbreaking partnership with the City of Moab animal shelter was gratifying to look back on.
Between 1997 and 2000, 70% of homeless dogs and cats in the area were euthanized due to a lack of animal housing or adoption services, Ryan reported. The HSMV was created by a group of locals to look into how to create a safe shelter for animals, educate the public on the humane treatment of animals and to provide the community with a low-cost spay/neuter program.
At the time, the City of Moab's animal control officer was Randy Zimmerman, who worked with HSMV volunteers to place stray cats and dogs with foster families.
Zimmerman shared the challenges of animal control in the community, including a lack of a dedicated space for an animal shelter. In 2003, Moab City kept homeless dogs in a small building located behind the present location of the City offices. There was no window in the building so Randy cut a hole in the door so the dogs would have light.
There was clearly a need for a dedicated shelter building for Moab's animals. While the idea was discussed as early as 2000, fundraising didn't begin in earnest until 2004 after HSMV volunteers and city administrators had discussed all the options.
"The shelter wouldn't be here if it weren't for Randy Zimmerman," says Janette Woodruff, shelter manager. "Randy was instrumental in making residents aware of animal control issues and the many dogs and cats that had to be euthanized because there was no place to keep them. It was heartbreaking to look at a beautiful, friendly animal or a litter of puppies and know that they would be euthanized in three days unless they were adopted or placed in foster care."
After looking at many locations, the City and County agreed to build the shelter on City property next to the Recycle Center, where the shelter is today.
Funding for the shelter was completed in 2007. Grand County contributed $10,000, Moab City provided $350,000 (which included a $160,000 grant from the state Community Impact Board), and HSMV provided $80,000 in funds raised from passionate volunteers and animal lovers in the community.
The grand opening celebration for the animal shelter took place on November 17, 2007.
"A big hurdle was overcome when the City began talking about creating a shelter," said Diane Allen, one of the founders of HSMV.
"HSMV educated people about animal care and encouraged pet owners to think about the responsibility associated with having a pet," said Zimmerman, who retired in 2016.
While the City of Moab's Animal Shelter and the local Humane Society are separate entities, the groups have an ongoing partnership and work together to help keep local animals safe and find homes for stray dogs and cats. The shelter has been "no-kill" since 2003, becoming just the second community in Utah to commit to avoiding animal euthanization.
"Most nonprofit animal welfare organizations and government shelters don't work together," said Ryan, commenting that the partnership was a win for both as it increased efficiency and saved costs for both the Humane Society and the city.
"As a community, we are all responsible for our animals," said Ryan. "They have no voice, so they depend on us. Continued support and ongoing effort are necessary to help us to continue our mission of saving lives and keeping Moab community pets safe and healthy today and forever."
For more information on the Humane Society of Moab Valley's twentieth-anniversary events and to see dogs and cats available for adoption, go to www.moabpets.org.
---
October 2019 HSMV participated in the BEACON Afterschool Lights On Celebration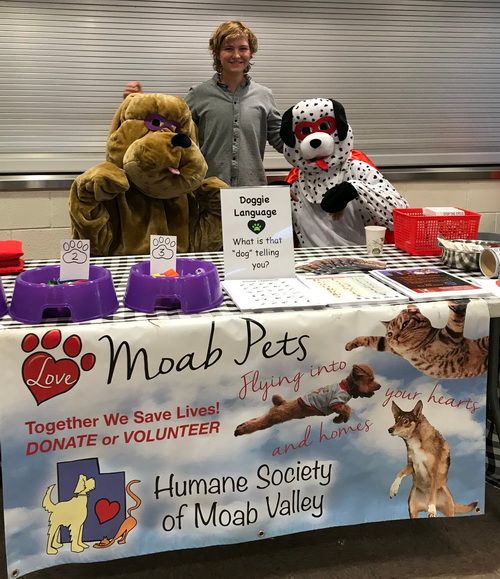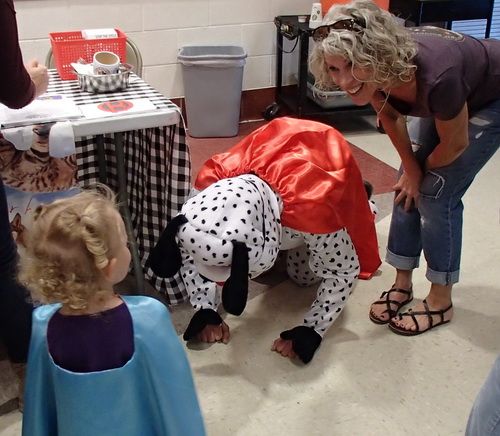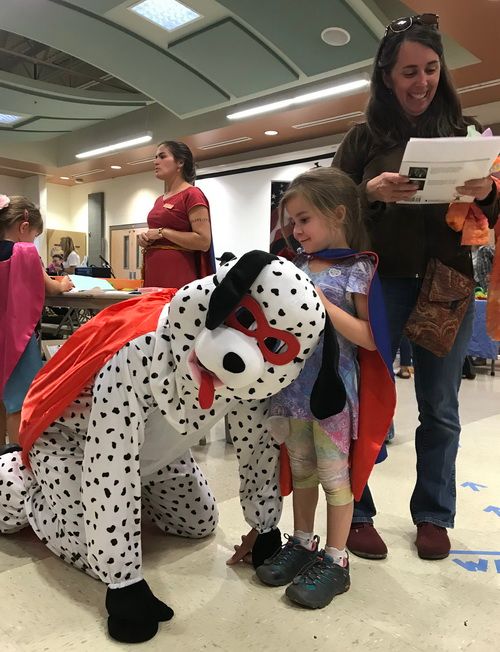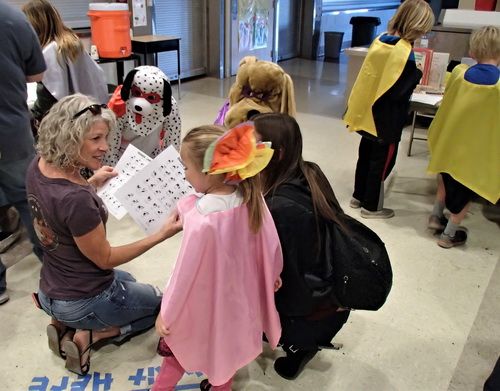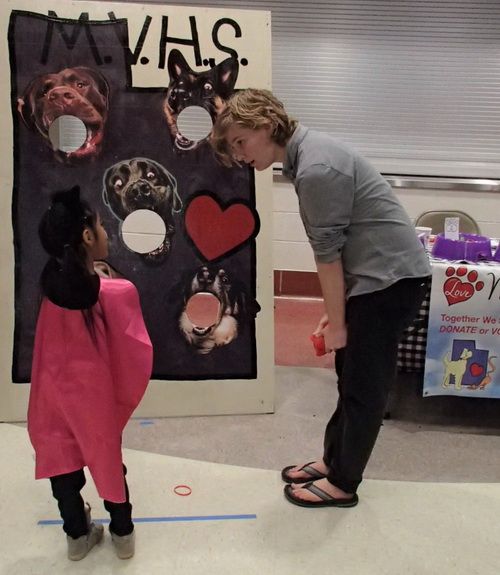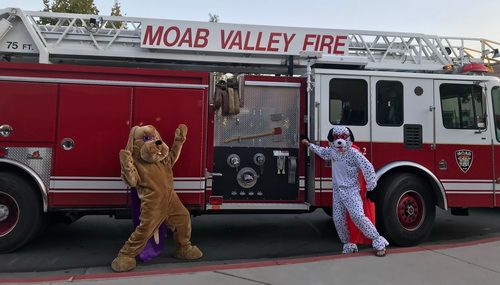 ---
2019 Paws for the Cause Fundraiser at LaSal House
---
Holiday Light Parade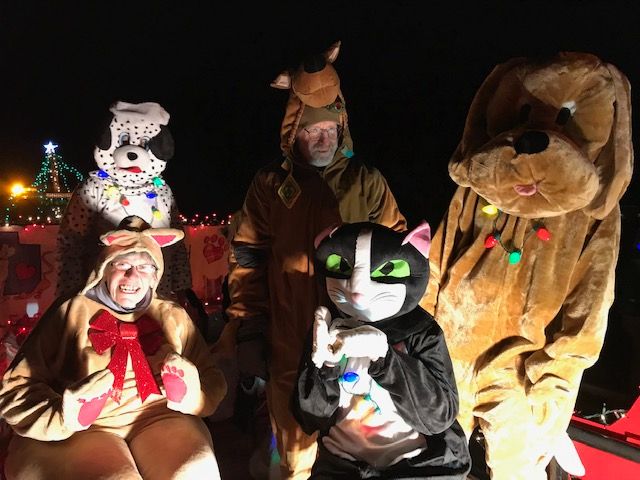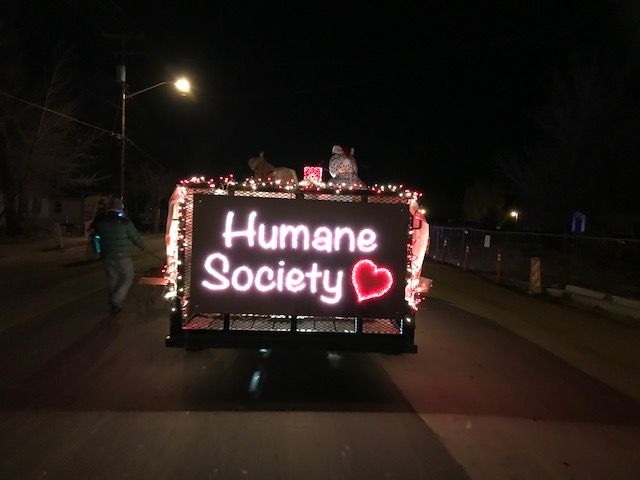 Humane Society Holiday float with volunteers having fun dressed in their favorite costumes.
---
Special Holiday Gifts for the Shelter dogs and cats!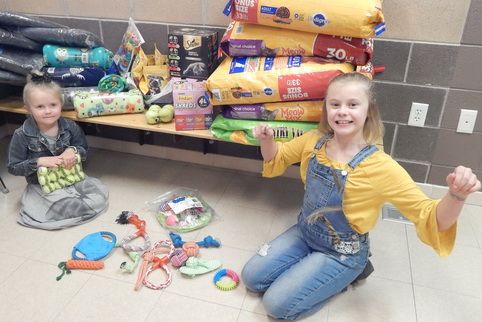 The dogs and cats at the Moab City Animal Shelter would like to thank the Fox family and the many other community members who have donated pet food, supplies and toys this Holiday Season!
---
2018 Annual Board Dinner at Moab Brewery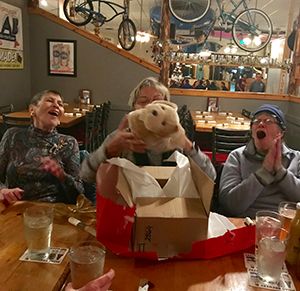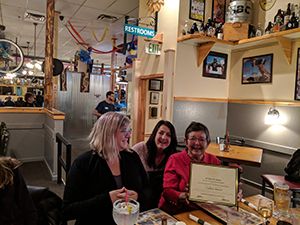 ---
Red Rock 4-Wheelers donates $250 to Humane Society!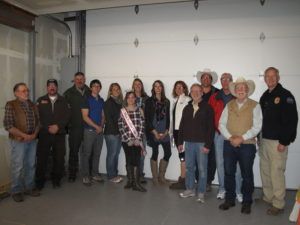 ---
Plaque of Appreciation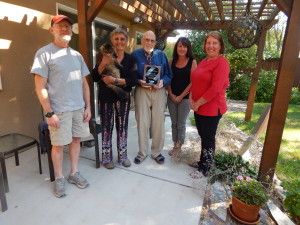 Humane Society of Moab Valley recognizes and thanks Hans and Madeleine Weibel with a plaque of appreciation for their significant contributions over many years and for bettering the lives of animals in our community. Pictured from left is Pete Kaufman, Madeleine Weibel, Hans Weibel, Leigh Ryan and Saxon Sharpe.
---
Moab Yoga Donation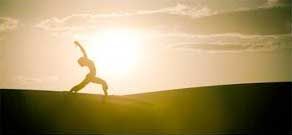 Each month Moab Yoga chooses a Moab non-profit to support.  Moab Yoga offers a Community Yoga Class every Sunday at 4:00.  The class cost is donation-based and 100% of its profit from the class is donated to a chosen non-profit.  During the month of December Moab Yoga donated $115.50 to the HSMV!  Thanks Moab Yoga Team, what a great way to help the homeless pets of Moab!
---
Rock 4-Wheelers has donated $300 to the Humane Society! Three Cheers!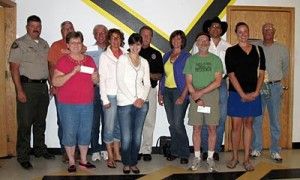 Partners in proceeds
Posted: Wednesday, August 28, 2013 8:00 pm Sun News
---
WabiSabi Nonprofit Partners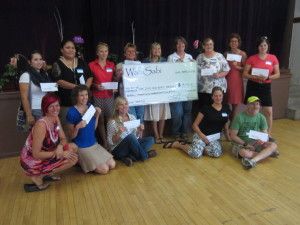 WabiSabi awarded $18,772.41 to its 13 Nonprofit Partners 
Monday, Aug. 19 for the first half of 2013. Money granted comes from proceeds from WabiSabi's two thrift stores in Moab. The money is divided by votes from donors and shoppers who choose which non-profit to support. Included in photo from left to right are: Rhiana Medina, Moab Valley Multicultural Center; Mel Gilles, WabiSabi; Cora Shonie, Native American Club; Laurie Collins, Moab Arts and Recreation Center; Stephanie Dahlstom, BEACON; Jody Ellis, RSVP; Emily Niehaus, Community Rebuilds; Jaylyn Hawks, Seekhaven; Abby Scott, Canyonlands Community Recycling; Debra Officer, Family Support Center; Dannette Johnson, Moab Free Health Clinic; Pete Kaufman, Moab Valley Humane Society; and Erin Trim, Youth Garden Project. [Courtesy photo]
---

Click for Info: Lifesaving Grant keeps trap/neuter/return (TNR) program on track
---
Unsung Heroes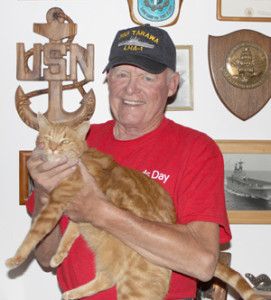 Unsung Heroes – Jim Moulter
by Laura Haley, contributing writer
Jim Molter has always loved cats. So when he and his wife, Mary, moved to Moab in 2004, they say it only made sense to volunteer time at the Moab Valley Humane Society.
"We wanted to meet people who thought like us," Mary Molter explained.
It was there that they met Margaret Griffith, a Moab woman who takes care of the large population of feral cats that call the area home.
"Margaret would take a sack of food out and split it open on the ground," Jim Moulter said. "Within a couple of days the food would be wet and mildewed."
It was obvious to Moulter that this method of feeding the felines wasn't the most efficient, so he took it upon himself to design and build gravity feeders that would enable the cats to eat clean, dry food, but would also keep other critters like raccoons and skunks away. Mary estimates that Jim has built close to twenty-six feeders for the program, and that each feeder provides food for eighteen to twenty cats.
Griffith said that having the feeders was a game-changer for the program. "Now cats come to one place rather than wandering all over the neighborhood," she said. That makes them easier to trap so that they can be spayed or neutered.
The Moulters went out once a week, every week, to refill all the different feeders. It's hard work, hauling around 50-pound sacks of cat food to pour into each feeder, and in the last few years, Jim's his arthritis has gotten worse, making it difficult to perform that task, he said. But that hasn't stopped him from helping in other ways.
Food wasn't the only problem that Griffith was having with the cats. In an attempt to help reduce the numbers of feral cats, Griffith runs a program through which the cats are trapped, spayed or neutered, and then re-released. Optimally, according to Mary Moulter, the cats are returned to the area in which they were caught. However, that wasn't always possible, which meant that there were often cats with nowhere to go.
Jim ended up taking an old children's playhouse and converting it into a "halfway house" for the cats to stay until a permanent home is found, he said.
"He did a phenomenal job," Griffith said. "Some people just slap things together. I don't think Jim even knows what that means."
Jim also designed and built the red boxes that can be found in establishments around town for soliciting donations for the local Humane Society. Prior to his help the group used mayonnaise jars to collect money. But because the jars were so easy to get into, the money often disappeared before anyone from the Humane Society could collect it, according to Moulter. Now the boxes are locked, though that unfortunately hasn't stopped people from taking the money out of them, his wife said.
When Jim Moulter isn't busy helping build a new home for the cats, he's hard at work at one of his other passions: four-wheeling.
"I'm the vice president of the Moab Friends-For-Wheelin' club," he said. Every year, Moulter and several other members of the club work with the Bureau of Land Management to help clean up off-road trails, mend fences, and assist with any other work that might be needed along backcountry trails. The group recently provided drinks to runners of the Moab Trail Marathon.
About a year ago, the Moulters told Griffith that she would need to find some more volunteers to help out with the feral cat program because they are becoming less physically able to do the work.
"They gave me a year's notice," Griffith said. "But that didn't make it any easier when they finally left. There are three of us now doing their job."
Jim and Mary Moulter said that as they get older, there are more and more things they find they can't do. But for now, they keep doing as much as they can to help out, even providing a home for five previously feral cats.
"He works like you wouldn't believe," Mary Moulter said. "He's always building something. He never says no."
For her part, Griffith credits Jim for helping keep the feral cat program going in the area.
"I couldn't have done this without him," Griffith said. "All the things that needed to be done, he did."
Read more: Moab Times-Independent
---
Times Independent Pet Photo Contest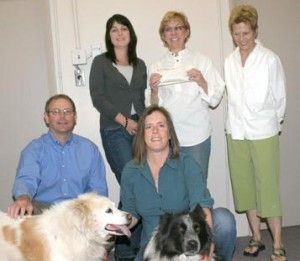 Special Thanks to the Times Independent
for creating the March Pet Photo Contest!
And Thanks to all of the citizens of Moab that voted for their favorite pet, $2,303 was raised for the Humane Society of Moab to help the homeless cats and dogs of Moab!
---