Trap, Neuter and Return (TNR) Program
URGENT NEED:  Volunteers needed to help with the TNR Program
Volunteers needed to help trap stray feral/community cats to be neutered. To help please call the HSMV office @ 435-259-4862.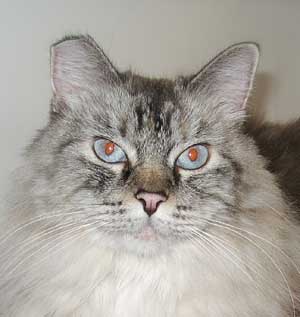 TNR Program for Feral and Community Cats
A "Feral" cat is a cat that was born and grew up without handling by humans.  These cats are considered wild animals and react as such.  They cannot be picked up or handled by people.  They can bond with their food source but rarely with more than one person and are not considered "adoptable" animals.  The Humane Society traps and neuters these cats to control the population and recruits a volunteer to feed and maintain a watch over the colony.  A feral cat will have a "tipped" ear if it has been neutered.  Just feeding feral cats without trapping and neutering ADDS to the problem.  Please do not start feeding wild or stray cats unless you are prepared to help trap, neuter and maintain a colony with the help of HSMV.
A "Community" cat is a cat who was raised by humans and enjoys interacting with them.  They may have become lost, were abandoned, or just neglected and they left their home and joined a colony.  With the help of Feral Cat Volunteers, HSMV traps and neuters these animals and if they are easily handled will place them in our Adoption program or place them as Barn cats.  Until neutering our pets is a strong social conviction or law – these stray animals will continue to breed and add to the homeless cat problem.  Please urge your friends, neighbors and landlords to spay and neuter all pets.  The Humane Society has a year-round free or discount program to spay/neuter personal pets.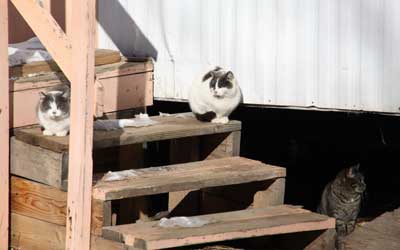 Reporting Options for Stray Cats
A "Stray" cat is a cat who is healthy and friendly and strayed away from their home.  It does not have a "tipped" ear. If you feed outdoor cats you will attract stray animals (and wildlife).  Please DO NOT feed stray animals and DO NOT feed your animals outside.  Cats – even beloved pets who sleep in their owners beds, will come to additional food sources.
City Residents – if you notice a stray in your neighborhood – Please call Moab City Animal Control at 435-259-8938.  Less than 10% of stray cats are reunited with their owners because of two main reasons.  1.  Owners assume the animal is dead – run over or gotten by a coyote etc. – and never report the missing animal.  2.  People do not report stray cats and the owner never has a chance to recover their beloved pet.  Please report stray cats!  Because of the hard work of volunteers and the Humane Society, the City of Moab has not euthanized a stray adoptable animal since October of 2003.  Stray animals are much SAFER in the City Shelter than roaming the streets.  Please also report people who have abandoned or are neglecting their pets, Animal Control treats all reports as anonymous (they do not share your name).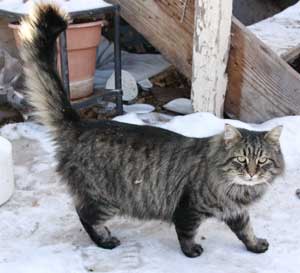 If you live within Moab City limits, you are a citizen of the City of Moab and have every right to call Animal Control about stray animals or diseased or dangerous animals.  If you feed stray animals for more than a week and have not reported them to Animal Control – you will be considered their legal owner and you will be responsible for their medical and physical care.
County Residents – you should report stray animals to the Grand County Dispatch at 435-259-8115. Grand County does not have their own facility but animals from the County can be brought to the City Shelter with the permission of the Sheriff's office. Contact your County Council members if you are interested in having better animal services in the county.  It is necessary for Grand County Council members to understand the importance and desire of county residents to have better Animal Services.